The safest, most effective therapies for optimal health!

---
by Ellen Landauer
Healthy Male
Prostate Diet
To keep the male prostate healthy, eat a diet that supports testosterone production. Going more in the direction of a Ketogenic Paleo diet is a major step toward increasing your male vitality!
Avoid or at least minimize foods and substances such as alcohol and pot, which have an estrogenic effect on the body, causing feminisation. Proper nutrition is the important foundation of hormonal balance.
Do you know that the main dietary compound that sex hormones are made from is cholesterol?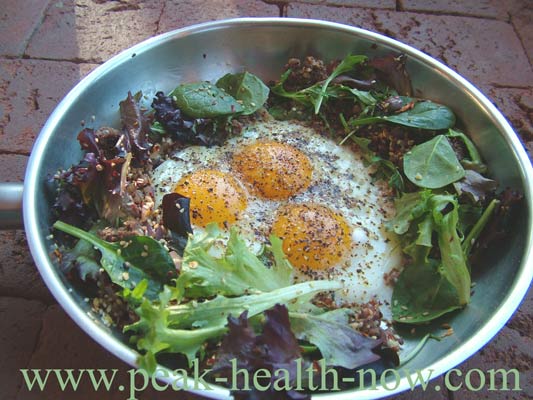 PHOTO: Local free-range organic eggs prepared by my Paleo chef extraordinaire husband!

Cholesterol from grass fed meats, eggs and dairy provide raw materials for a healthy abundance of testosterone and other hormones important to prostate health.
Proper nutrition is the important foundation of hormonal balance.
Important: You may not be aware of the truth about Testosterone and DHT (Dihydrotestosterone - the ACTIVE form of Testosterone). Please see my article HERE which busts the myths promoted by conventional sources.
_____________________
NOTE: Before deep research on Testosterone and DHT, I bought into the 'phytosterols myth,' which asserts that foods and herbs like avocados, pumpkin seeds and saw palmetto should be part of a healthy male prostate diet.
WRONG!! Phytosterols interfere with the conversion of Testosterone to DHT  Dihydrotestosterone - the ACTIVE, most beneficial form of T. 
Therefore, while occasional use of such foods may be fine, I NO LONGER RECOMMEND THEM.
---
Transdermal Support for
Healthy Male Prostate Diet
PHOTO BELOW: Enhance and protect the Testosterone that your body naturally produces with Transdermal Lotions for Men.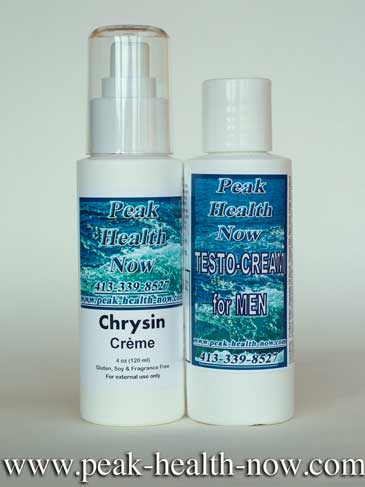 Male Potency Diet 

Cardiovascular Health is Essential for Male Potency! 

Testosterone Booster Packages for Men


---
Ellen Landauer is an expert with over 40 years in-depth study and experience of the safe and effective use of nutritional supplements, botanical extracts and detoxification methods.
She is Certified as an Advanced Practitioner of Structural Integration body therapy developed by Dr. Ida P. Rolf - also known as Rolfing. This hands-on therapy is the deepest, most comprehensive body alignment therapy. 
---
Ellen Landauer is also a  PUBLISHED AUTHOR!
---
To learn more about Ellen Landauer, see her detailed bio HERE

---
The Food and Drug Administration has not evaluated any of the statements on this website. Products offered on this website are not intended to diagnose, treat, cure, or prevent any disease. The information presented on this site is provided for informational purposes only; it is not meant to be a substitute for medical advice or diagnosis provided by your physician or other medical professional. If you have any health problem, please consult with a physician or health care provider before using any natural products. Peak Health Now and/or its product suppliers assume no liability for any injury, illness or adverse affects caused by the misuse and/or use of the information or products presented on this website.

© 2008 - 2022 ™Peak Health Now.com. All rights reserved. 
Throughout this website, statements are made pertaining to the properties and/or functions of food and/or nutritional products. These statements have not been evaluated by the FDA and these materials and products are not intended to diagnose, treat, cure or prevent any disease. For all health and medical questions, please consult with your doctor. By viewing this site, you are stating that you agree with this disclaimer.