The safest, most effective therapies for optimal health!

---
by Ellen Landauer
Robuvit® Oak Wood
Extract Benefits
Robuvit® Oak Wood Extract benefits are many.
It has proven in clinical studies that it fights chronic fatigue and related symptoms, boosts cognition, improves mood, and has some important detox benefits as well.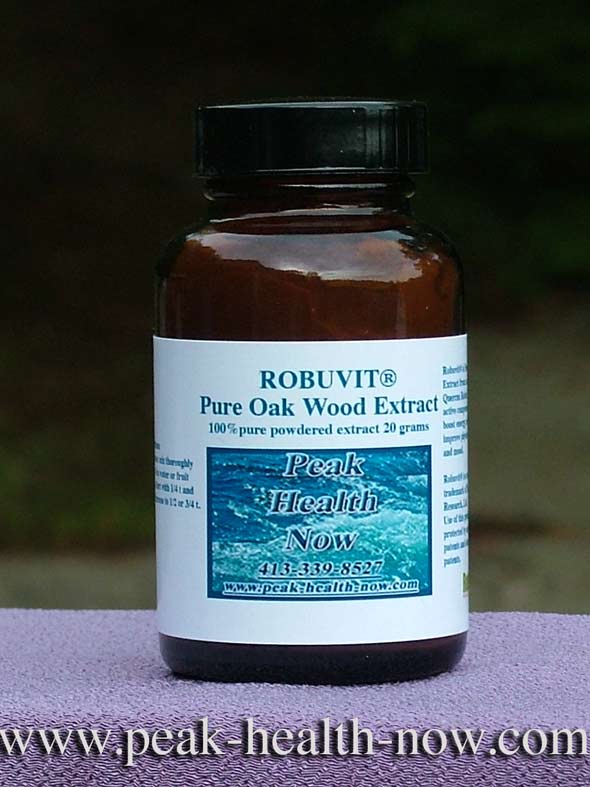 PHOTO ABOVE: 100% pure Robuvit® Oak Wood Extract.
I have found Robuvit® Oak Wood Extract benefits to contribute to my own health through a few years of using it. As well as the above benefits, this compound was awarded a top prize as a sports supplement.
---
My Experience With Robuvit®
Oak Wood Extract Benefits
Robuvit® Oak Wood Extract benefits are EASY to obtain!
As a simple addition to a cold glass of water, has a pleasant, bracing, slightly astringent, piquant quality.
I like 1/4 teaspoon in 4 - 8 ounces water. It is refreshing on a hot summer day, as well as providing a smooth energy boost with no caffeine needed. 
Interestingly, along with the extra energy, the Robuvit® seems to provide a mellowing effect. There is a feeling of ease it imparts which balances and deepens the experience.
Robuvit® is a great choice as a refreshing drink on a Paleo / Ketogenic diet, as it does not spike insulin.
I have also used 1/4 - 1/2 teaspoon in coffee enema, which has a similar energizing / mellowing effect. 
---
Are Robuvit® Oak Wood Extract
Benefits Part of the
'French Paradox?'
It occurred to me that the so-called 'French Paradox' may have as significant influence the benefits of Oak Wood Extract that insinuates itself into the wine from the oak barrels in which wine is aged. (The French Paradox is so-called because statistically, even though the French eat a lot of high-fat animal foods - for instance pate-foi-gras - goose liver pate,' their rate of circulatory problems is low compared even to some countries that have lower fat diets). 
Of course, it is now understood by those in the know, that animal fats from healthy sources (grass-fed organic) do NOT contribute to circulatory disease. Stress and carbohydrate consumption DO contribute mightily to circulatory disorders. However, given the amount of wine the French like to consume, it stands to reason that the Oak Wood Extract from the barrels in which it is aged somewhat offset the deleterious effects of alcohol consumption.
---
Robuvit® Oak Wood Extract
Benefits Facts
Robuvit® originates from unique oak tree species : Quercus Robur. "Quercus" is derived from the Celtic "quer" - which mean "fine", and "cuez" - which means "tree". The latin word "robur" means : strength, power, oak, firmness, solidity.
The astringent effects of oak wood was known to the Ancients and used in medicine for centuries to fight against fever, hemorrhages, and diarrhea. It is tonic, strongly astringent and antiseptic. It has an astringent bitter taste, slightly aromatic.
Among Robuvit® Oak Wood Extract benefits is that it is a powerful natural antioxidant shown to support sports performance and to boost energy in those with fatigue and chronic fatigue syndrome. 
Clinical studies have shown Robuvit® to provide benefits in various fields of application such as liver function, blood glucose, lymphatic function, homocysteine level (a cardiovascular risk factor) and more. Robuvit® is an amazing ingredient which offers multiple detox benefits. 
Robuvit® offers a scientific evidence-based, safe, natural, caffeine-free solution to boost energy, reduce fatigue and improve both physical performance and mood.
Multiple clinical studies have proven Robuvit® to help with CFS (Chronic Fatigue Syndrome), including symptoms such as loss of memory or concentration, muscle pain, headache, unrefreshing sleep, dizziness, allergies, mood swings, but also physical performances. 
Another clinical study with 91 subjects, based on the Brief Mood Introspection Scale has also shown a significant impact of Robuvit® on mood. The score for the overall mood of the Robuvit® group of subjects actually switched from a majority of unpleasant words to a majority of pleasant words to describe their mood.  https://www.robuvit.com/science/
BUY Robuvit® Oak Wood Extract 100% Pure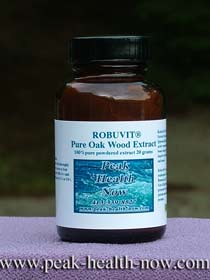 A GREAT workout supplement that works superbly in tandem with Robuvit® is Montiff Super-Sports
---
Ellen Landauer is an expert with over 40 years in-depth study and experience of the safe and effective use of nutritional supplements, botanical extracts and detoxification methods.
She is Certified as an Advanced Practitioner of Structural Integration body therapy developed by Dr. Ida P. Rolf - also known as Rolfing. This hands-on therapy is the deepest, most comprehensive body alignment therapy. 
---
Ellen Landauer is also a NEWLY PUBLISHED AUTHOR!
---
To learn more about Ellen Landauer, see her detailed bio HERE

---
The Food and Drug Administration has not evaluated any of the statements on this website. Products offered on this website are not intended to diagnose, treat, cure, or prevent any disease. The information presented on this site is provided for informational purposes only; it is not meant to be a substitute for medical advice or diagnosis provided by your physician or other medical professional. If you have any health problem, please consult with a physician or health care provider before using any natural products. Peak Health Now and/or its product suppliers assume no liability for any injury, illness or adverse affects caused by the misuse and/or use of the information or products presented on this website.

© 2008 - 2022 ™Peak Health Now.com. All rights reserved. 
Throughout this website, statements are made pertaining to the properties and/or functions of food and/or nutritional products. These statements have not been evaluated by the FDA and these materials and products are not intended to diagnose, treat, cure or prevent any disease. For all health and medical questions, please consult with your doctor. By viewing this site, you are stating that you agree with this disclaimer.