Disclaimer: Please scroll to bottom of page for disclaimer.
---
Fibromyalgia Definition


Index of Articles to Help You Think 'Outside the Box'
A fibromyalgia definition can be confusing.
My experience of this condition, as well as an enormous amount of time spent in research and also discussion with other sufferers raised more questions than it answered.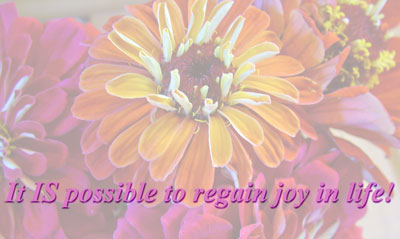 I was officially diagnosed in 2001 by an MD familiar with fibro. Most conventional treatments I received made my symptoms progressively worse.
Five years and tens of thousands of dollars later, I was not able to live a normal life. All I accomplished during these years was powered by pure unrelenting Will.
In the final analysis, I had to look deeply into fibromyalgia definition and the basis for it. Recovery encompassed a very wide scope of knowledge gleaned from endless hours of research and continual personal experimentation with hundreds of products and therapies.
Additionally, honing body awareness and learning to ask and receive answers from my body while suspending opinion and judgement - were an essential part of my complete recovery.
The accumulation of knowledge I provide for you throughout this site is the result of going far beyond a fibromyalgia definition. 
If you are suffering, I want you to know it is possible to heal.
Fibromyalgia Definition: Symptoms and Treatment Ideas Can be Confusing!
What I Learned from Other Sufferers
Chronic Fatigue, Brain Fog, Insomnia, Joint and Muscle Pain: What are the Real Causes?
A Reader Asks a Question About Fibro
© 2008 - 2018 ™Peak Health Now.com. All rights reserved. 
Disclaimer: Throughout this entire website, statements are madepertaining to the properties and/or functions of food and/or nutritional products. These statements have not been evaluated by the FDA and these materials and products are not intended to diagnose, treat, cure or prevent any disease.
Any and all articles, answers and comments on this site are for general information, and are not intended to be a substitute for your informed professional medical or other professional advice. 

You are responsible for the results or consequences of your choices based on general information presented here. Information is used at your own risk. 

The owner expressly disclaims liability for any product, manufacturer, distributor, service, or service provider or any opinion expressed in answers or comments. For all health and medical questions, please consult with your doctor. By viewing this site, you are stating that you agree with this disclaimer.