Disclaimer: Please scroll to bottom of page for disclaimer.
---
Chrysin Cream: Buy
(US Orders ONLY)
Chrysin Cream: Buy the purest, freshest, most potent for highly effective transdermal application.
4 oz pump bottle: 100 mgs pure Passiflora Incarnata Extract per 8 pumps.
DIRECTIONS FOR USE: 8 pumps 1 - 3 x per day massaged into upper chest, inner arms, inner thighs and back of knees. Chrysin Cream is also wonderful as a facial skin conditioner.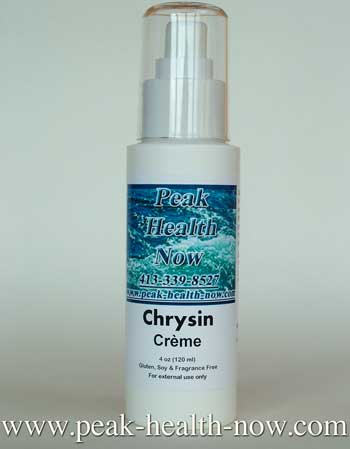 Chrysin Cream 4 oz pump bottle
INGREDIENT LIST:  Purified Water, Carthamus tinctorius (organic safflower seed oil), Chrysin, Aloe barbadensis (Aloe Vera Gel Extract), Sepigel 305 (non-toxic emulsifier - polyacrylamide, c13-14 isoparrafin, laureate-7), Potassium Sorbate, Sorbic Acid), 
© 2008 - 2018 ™Peak Health Now.com. All rights reserved. 
Disclaimer: Throughout this entire website, statements are madepertaining to the properties and/or functions of food and/or nutritional products. These statements have not been evaluated by the FDA and these materials and products are not intended to diagnose, treat, cure or prevent any disease.
Any and all articles, answers and comments on this site are for general information, and are not intended to be a substitute for your informed professional medical or other professional advice. 

You are responsible for the results or consequences of your choices based on general information presented here. Information is used at your own risk. 

The owner expressly disclaims liability for any product, manufacturer, distributor, service, or service provider or any opinion expressed in answers or comments. For all health and medical questions, please consult with your doctor. By viewing this site, you are stating that you agree with this disclaimer.