Disclaimer: Please scroll to bottom of page for disclaimer.
---
Benefits of Astaxanthin
Benefits of Astaxanthin, a very potent red-orange carotenoid antioxidant found in salmon, lobsters, shrimp and other marine life, support cardiovascular health, immune system and eye health.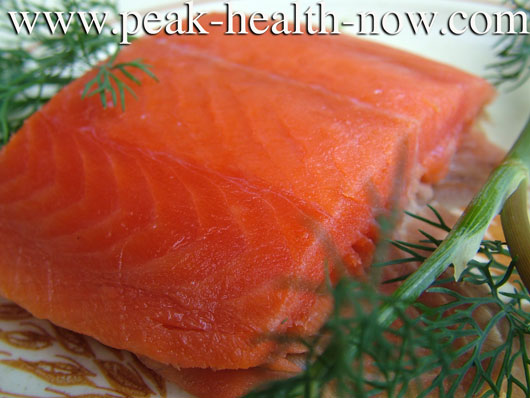 Astaxanthin is produced by countless microalgae and phytoplankton in the sea, then consumed by the lower forms of sea life such as krill and shrimp. It becomes concentrated in the higher animals, such as salmon, that consume the krill, shrimp and smaller sea life that feeds on the phytoplankton and microalgae.
Wild Alaskan Sockeye Salmon is one of the best sources as it is harvested from some of the last relatively pure waters in nature. You may have noticed the very deep orange (almost brick-red) coloration of real wild salmon - this rich pigmentation is from the high concentration of Astaxanthin.
With the newfound popularity of the benefits of Astaxanthin, you now find it available in pure form as a supplement.
HOWEVER, the best way to get the benefits of Astaxanthin is to go straight to the source and buy Wild Alaskan Sockeye Salmon.
Benefits of Astaxanthin: Cardiovascular
Endothelial Support: Promotes health of the endothelium (lining of the blood vessel walls). Helps protect against oxidative stress in the vascular system. 1
Helps Lower C-Reactive Protein (CRP):
Supports Proper Fat Metabolism Efficient fat metabolism is important for a healthy lipid profile.
Benefits of Astaxanthin: Immune System Support
Powerful antioxidant properties: Astaxanthin is more powerful than Vitamin E, Vitamin C and many others.
Antioxidants help maintain integrity of all cell membranes including those of your immune cells (macrophages, lymphocytes, etc). 2
Astaxanthin supports production of immunoglobulins IgA, IgG and IgM. (Immunoglobulin is another name for antibody. Antibodies are proteins employed by your immune system to locate, identify and disable harmful microorganisms).
Natural Killer Cell Support: Lymphocyte proliferation and activity are increased.
Benefits of Astaxanthin: Eye Health
Protects your eyes from oxidative stress: The anti-oxidant power of this red-orange carotenoid helps keep free radical activity from damaging delicate eye tissues.
Anti-inflammatory protection: Helps prevent lipopolysaccharide-induced inflammation.
Promotes far visual (distance vision) acuity, depth perception and helps reduce eye fatigue.
References:
1. Pashkow FJ, Watumull DG, Campbell CL. Astaxanthin: a novel potential treatment for oxidative stress and inflammation in cardiovascular disease. AM J Cardiol 2008, 101, 58D - 68D
2. Park JS, Chyun JH, Kim YK, et al. Astaxanthin decreased oxidative stress and enhanced immune response in humans. Nutr Metab 2010, 7, 18. ,B.



© 2008 - 2018 ™Peak Health Now.com. All rights reserved. 
Disclaimer: Throughout this entire website, statements are madepertaining to the properties and/or functions of food and/or nutritional products. These statements have not been evaluated by the FDA and these materials and products are not intended to diagnose, treat, cure or prevent any disease.
Any and all articles, answers and comments on this site are for general information, and are not intended to be a substitute for your informed professional medical or other professional advice. 

You are responsible for the results or consequences of your choices based on general information presented here. Information is used at your own risk. 

The owner expressly disclaims liability for any product, manufacturer, distributor, service, or service provider or any opinion expressed in answers or comments. For all health and medical questions, please consult with your doctor. By viewing this site, you are stating that you agree with this disclaimer.