The safest, most effective therapies for optimal health!

---
by Ellen Landauer
Womens Hormonal Support Packages for You!

US ORDERS ONLY
Womens Hormonal Support packages which focus on Testosterone - are hand-picked to provide gentle, powerful assistance.
The purpose of ALL these formulas is to help you achieve and maintain your feminine loveliness and power that is your birthright.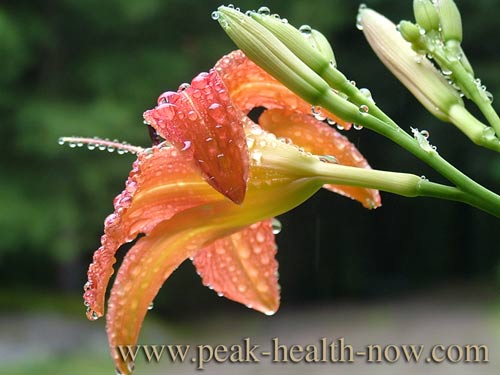 Add the superior formulas below to your excellent self-care program to optimize mood, sexual response, beauty and energy.
YOUR SELF-CARE PROGRAM IS THE FOUNDATION ON WHICH THE RESULTS OF USING ANY PRODUCT DEPENDS!
Please see my Diet and Nutrition section for tips on choosing the best foods.
Take a look at Peak Health Now articles on Amino Acids for the best oral Vitamins, Minerals and Amino Acids.
Detoxification is no longer optional - it is mandatory these days - to be optimally healthy. You may want to look at our Coffee Enema section or read about our most popular detox products HERE.
---
Womans Hormonal Support Packages: Freshness and Purity
GUARANTEED!
Peak Health Now Womens Hormonal Support packages contain only the finest ingredients. They are free of such harmful compounds as: paraben, methylparaben, propylene glycol and retinal palmitate.
A clean carrier base with such ingredients as Apricot Kernel Oil, Evening Primrose Oil, Safflower Oil and Vitamin E - as well as safe emulsifiers and preservatives is standard for all our products.
How do I know this..? 
Long (years) personal experience benefitting from these formulas - AND I personally know the integrity of the people who make them for me - also for years.
---
TestoWoman Package #1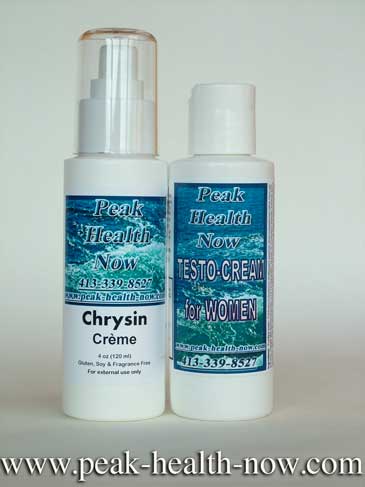 Testo-Cream for Women 4 oz / Chrysin Cream 4 oz
Testo-Cream for Women - 4 oz bottle
Active ingredients: Damiana Leaf Herbal Extract, Muria Puama Herbal Extract, Mucana Pruriens Herbal Extract, Ginkgo Biloba Herbal Extract, Saw Palmetto Herbal Extract, Micronized Dehydro- epiandrosterone (DHEA), Chrysin, Testosterone Booster.  
(No Androstenedione, No Caffeine, No Ephedrine, No Yohimbe)!
Carrier Ingredients: Vegetable oil blend: Our oil blend consists of Apricot Kernel, Sunflower, Evening Primrose, Grape seed, Hemp seed, Mandarin Red, Rice Bran, Sweet Almond, Safflower and Vitamin E oils. The blend is formulated to penetrate and protect the skin.
DIRECTIONS FOR USE: Apply 1/2 teaspoon lotion on upper body daily for 21 days. Stop for 1 week. Start again for 21 days. Stop for 1 week. Start 
again for 21 days. This is referred to as "cycling". About 1 hour before exercise or sexual activity, apply 2 teaspoons gel on the body.  Not a lubricantBoth types of applications may be applied on the same day. Apply to skin with the least amount of hair. Choose skin areas that are 
relatively thin and well supplied with capillary blood flow, such as upper chest, neck, inner arms and inner thigh areas.

Chrysin Cream: Buy the purest, freshest, most potent for highly effective transdermal application.
4 oz pump bottle: 100 mgs pure Passiflora Incarnata Extract per 8 pumps.
DIRECTIONS FOR USE: 8 pumps 1 or 2 x per day massaged into upper chest, inner arms, inner thighs and back of knees. Chrysin Cream is also wonderful as a facial skin conditioner.
---
TestoWoman Package #2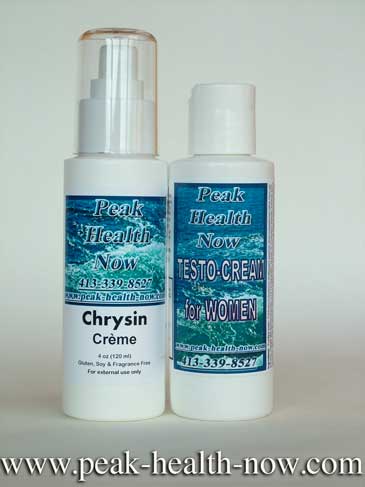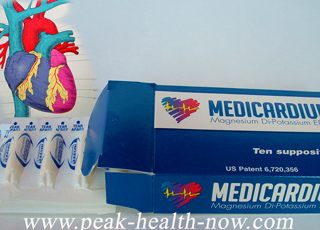 Testo-Cream for Women 4 oz / Chrysin Cream 4 oz / Medicardium EDTA 10 Suppositories

Choose 1 or 2 each product from drop-down menu:
---
TestoWoman Package #3
1 bottle Testo-Cream for Women 4 oz / 2 bottles Chrysin Cream 4 oz ea / 1 box Medicardium EDTA - 10 suppositories
---
Ellen Landauer is an expert with over 40 years in-depth study and experience of the safe and effective use of nutritional supplements, botanical extracts and detoxification methods.
She is Certified as an Advanced Practitioner of Structural Integration body therapy developed by Dr. Ida P. Rolf - also known as Rolfing. This hands-on therapy is the deepest, most comprehensive body alignment therapy. 
---
Ellen Landauer is also a NEWLY PUBLISHED AUTHOR!
---
To learn more about Ellen Landauer, see her detailed bio HERE

---
The Food and Drug Administration has not evaluated any of the statements on this website. Products offered on this website are not intended to diagnose, treat, cure, or prevent any disease. The information presented on this site is provided for informational purposes only; it is not meant to be a substitute for medical advice or diagnosis provided by your physician or other medical professional. If you have any health problem, please consult with a physician or health care provider before using any natural products. Peak Health Now and/or its product suppliers assume no liability for any injury, illness or adverse affects caused by the misuse and/or use of the information or products presented on this website.

© 2008 - 2022 ™Peak Health Now.com. All rights reserved. 
Throughout this website, statements are made pertaining to the properties and/or functions of food and/or nutritional products. These statements have not been evaluated by the FDA and these materials and products are not intended to diagnose, treat, cure or prevent any disease. For all health and medical questions, please consult with your doctor. By viewing this site, you are stating that you agree with this disclaimer.