Xeneplex Facts:
Everything You Need to Know
About this 'Instant Coffee Enema'
The Xeneplex formula provides an 'instant coffee enema' even if you are the busiest person on earth!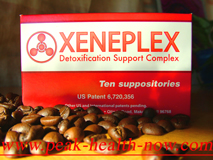 Xeneplex - Instant Coffee Enema PLUS!
Scientist Spencer Feldman created Xeneplex with additional Magnesium Di-potassium EDTA and pure Glutathione to enhance the effect of coffee extract in activating the glutathione s-transferase enzyme system.
Xeneplex is in my experience the BEST Coffee Enema suppository. I've used other formulas extensively and none compares. As well, this formula gives a treatment with a lot of similarities to coffee enema - and takes only a fraction of the time. 
Pthalates from plastics, and accumulated chemical toxins are effectively flushed out of the body using Xeneplex.


Xeneplex / Coffee Enema Comparison
Xeneplex Coffee Enema Suppository Review
Buy Xeneplex: FREE Shipping / $20.00 Discount per Box on Larger Orders / Exceptional Savings on Bulk Orders!