Disclaimer: Please scroll to bottom of page for disclaimer.
---
Pycnogenol® Benefits:
Buy 100 Percent Pure!
For Pycnogenol® benefits, buy only 100 percent pure French Maritime Pine Bark extract!
For the FIRST time, the one and only Pycnogenol® made by Horphag Research is available for you in totally unadulterated powder extract form, with NO added excipients!
PHOTO BELOW: Label (product image coming soon).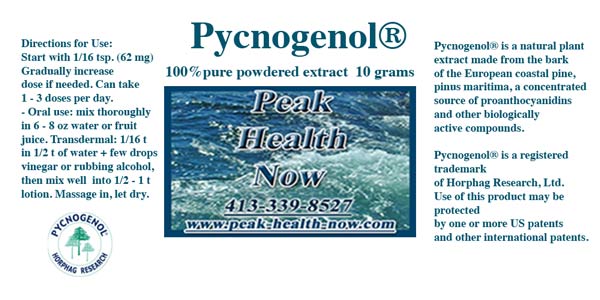 This 100% pure, powdered French Maritime Pine Bark Extract is packed and sealed in glass bottles for extended freshness.
Pycnogenol benefits - 10 grams: A little goes a LONG way! Just 1/16 teaspoon in a glass of juice or a smoothie to start. Can work up to 3 doses per day.
---
© 2008 - 2018 ™Peak Health Now.com. All rights reserved. 
Disclaimer: Throughout this entire website, statements are madepertaining to the properties and/or functions of food and/or nutritional products. These statements have not been evaluated by the FDA and these materials and products are not intended to diagnose, treat, cure or prevent any disease.
Any and all articles, answers and comments on this site are for general information, and are not intended to be a substitute for your informed professional medical or other professional advice. 

You are responsible for the results or consequences of your choices based on general information presented here. Information is used at your own risk. 

The owner expressly disclaims liability for any product, manufacturer, distributor, service, or service provider or any opinion expressed in answers or comments. For all health and medical questions, please consult with your doctor. By viewing this site, you are stating that you agree with this disclaimer.