The safest, most effective therapies for optimal health!

---
by Ellen Landauer
Symptoms of Low
Testosterone
Low testosterone not only affects libido and sexual performance; it leads to an aging body and increased risk of enlarged prostate and other health problems.
Mens' physical, emotional and mental well being are all highly affected by male hormonal health.


---
Research Study on Low Testosterone
A study conducted by Dr. Elizabeth Barrett-Connor and her colleagues at University of California, San Diego Found that low testosterone may lead to greater risk of death.
At the start of the study, the testosterone levels of 800 men aged 50 to 91 were measured. The mens' health histories were tracked for the next 20 years.
It was found that men with low testosterone had a 33 percent greater risk of death compared to the men with high testosterone.


---
What Are the Signs of Low Testosterone?
Sexual: Low libido (sex drive), erectile dysfunction, softer erections.
Cardiovascular: High blood pressure, hardening of the arteries (atherosclerosis).
Physical Conditioning: Inability to build lean muscle mass even with consistent strength training, loss of muscular strength, loss of muscular endurance.
Structural: decreased bone density, osteoporosis, loss of muscle mass, poor posture, obesity - especially belly fat.
Diminished Secondary Sex Characteristics: Less facial and body hair, voice softer and higher.
Emotional: Anxiety, depression, irritability, fears, lack of confidence, mood swings.
Mental: Impaired memory, ability to concentrate, and other intellectual functions.
Energy Level: Fatigue, sleep disorders.
The good news: you can prevent or reverse this process of deterioration!
Virility, vigor and masculinity can all be yours when you know how to maintain your hormonal health!
PHOTO BELOW: Pycnogenol® pure French Maritime Pine Bark Extract powder / Robuvit® pure Oak Wood Extract powder / Tongkat Ali 100:1 pure Extract powder - ALL with NO excipients!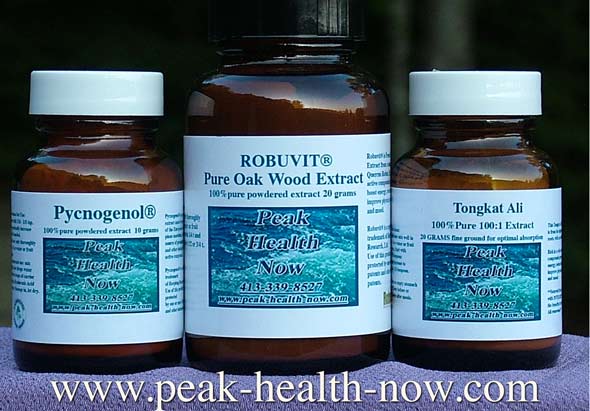 Tongkat Ali, Robuvit® Oak Wood Extract and Pycnogenol® for Testosterone, energy and Nitric Oxide!
Testosterone and DHT - Facts You May Not Know!
---
Ellen Landauer is an expert with over 40 years in-depth study and experience of the safe and effective use of nutritional supplements, botanical extracts and detoxification methods.
She is Certified as an Advanced Practitioner of Structural Integration body therapy developed by Dr. Ida P. Rolf - also known as Rolfing. This hands-on therapy is the deepest, most comprehensive body alignment therapy. 
---
Ellen Landauer is also a  PUBLISHED AUTHOR!
---
To learn more about Ellen Landauer, see her detailed bio HERE

---
The Food and Drug Administration has not evaluated any of the statements on this website. Products offered on this website are not intended to diagnose, treat, cure, or prevent any disease. The information presented on this site is provided for informational purposes only; it is not meant to be a substitute for medical advice or diagnosis provided by your physician or other medical professional. If you have any health problem, please consult with a physician or health care provider before using any natural products. Peak Health Now and/or its product suppliers assume no liability for any injury, illness or adverse affects caused by the misuse and/or use of the information or products presented on this website.

© 2008 - 2022 ™Peak Health Now.com. All rights reserved. 
Throughout this website, statements are made pertaining to the properties and/or functions of food and/or nutritional products. These statements have not been evaluated by the FDA and these materials and products are not intended to diagnose, treat, cure or prevent any disease. For all health and medical questions, please consult with your doctor. By viewing this site, you are stating that you agree with this disclaimer.