Disclaimer: Please scroll to bottom of page for disclaimer.
---
Nitric Oxide Supplement
Transdermal - BUY
Nitric Oxide Supplement Transdermal - buy this unique one-of-a-kind lotion formula that takes NO (Nitric Oxide) to a new level.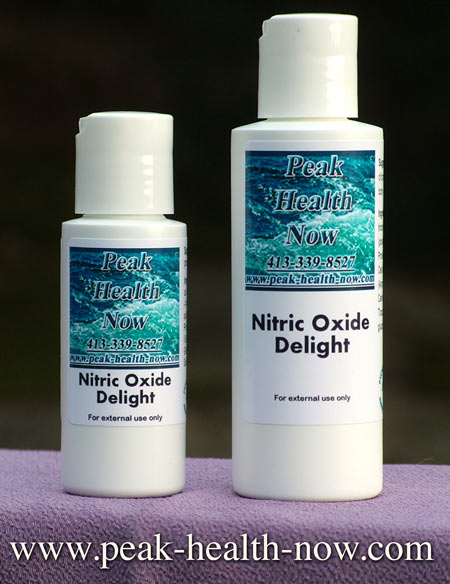 This Peak Health Now EXCLUSIVE proprietary formula designed by Ellen Landauer to provide the delightful vibrance NO is known for!
2 oz size on left, 4 oz size on right
INGREDIENTS LIST: Purified water, Glycine, Carthamus tinctorius (Safflower) seed oil, Sepigel 305 (Polyacrimide, C13-14 isoparaffin, laureth-7), L-Proline, Pycnogenol®, Methylsolfonylmethane (MSM), Oak Wood Extract, Chrysin, Prunus Americana (Apricot kernel oil), Vitis vinifera (Grape) seed oil, Cannabis sativa (hemp) seed oil, Gingko Biloba, Tocopherol (Vitamin E) oil, Xanthan gum, Sodium gluconate, Potassium sorbate, Sorbic acid

Nitric Oxide Delight is packed full of THE most high-quality active compounds available. You will note the brick-red color of the lotion resulting from high dose of Pycnogenol® French Maritime Pine Bark Extract (a VERY expensive item) - by far the best compound of its kind in the world, and Oak Wood Extract - also expensive and the best to be found. (NOTE: By spreading lotion over large areas of the body, the color imparted to skin is a rosy glow, not obvious - rather a subtle enhancement of skin color).
Some of these raw materials are VERY expensive. Ellen Landauer has spared nothing in making this the very best lotion to fulfill the intended purpose, hence the pricing for this formula. Two years of research and personal experimentation plus adjusting the ingredient proportions went into this excellent product.
You have the choice of two sizes; 4 oz and 2 oz
---
Nitric Oxide Delight 4 oz:
1/4 teaspoon per dose is approx 3 1/2 month supply
1/2 teaspoon dose is approx 1 1/2 month supply
1 teaspoon dose is approx 24 day supply.
---
Nitric Oxide Delight 2 oz:
1/4 teaspoon per dose is approx 1 3/4 month supply
1/2 teaspoon per dose is approx 3/4 month supply
1 teaspoon dose is approx 12 day supply
---
Nitric Oxide Supplement
Transdermal packages
TestoBoost Nitric Oxide package for Men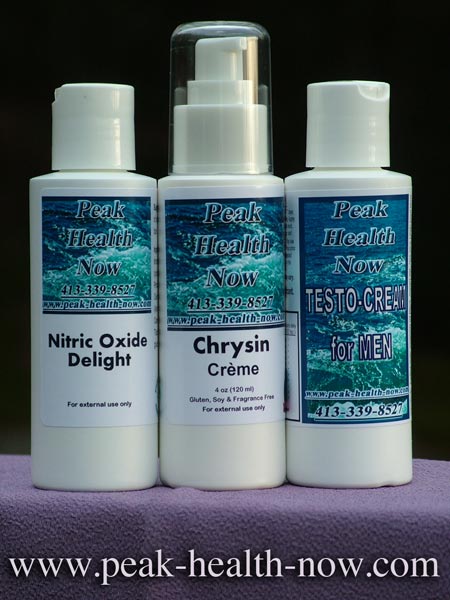 ---
TestoBoost Nitric Oxide for Women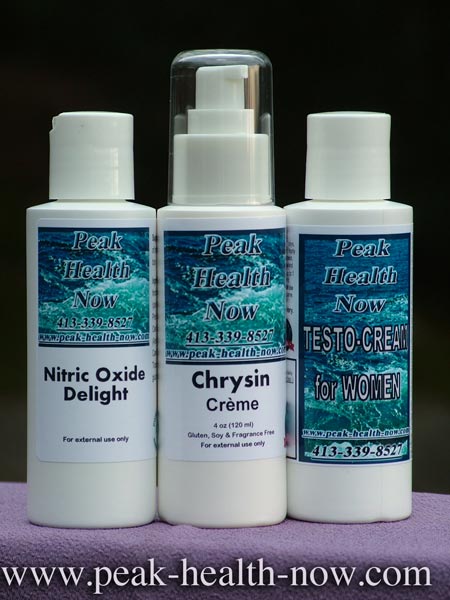 © 2008 - 2018 ™Peak Health Now.com. All rights reserved. 
Disclaimer: Throughout this entire website, statements are madepertaining to the properties and/or functions of food and/or nutritional products. These statements have not been evaluated by the FDA and these materials and products are not intended to diagnose, treat, cure or prevent any disease.
Any and all articles, answers and comments on this site are for general information, and are not intended to be a substitute for your informed professional medical or other professional advice. 

You are responsible for the results or consequences of your choices based on general information presented here. Information is used at your own risk. 

The owner expressly disclaims liability for any product, manufacturer, distributor, service, or service provider or any opinion expressed in answers or comments. For all health and medical questions, please consult with your doctor. By viewing this site, you are stating that you agree with this disclaimer.