Disclaimer: Throughout this entire website, statements are made pertaining to the properties and/or functions of food and/or nutritional products. These statements have not been evaluated by the Food and Drug Administration and these materials and products are not intended to diagnose, treat, cure or prevent any disease. 
IF YOU DON'T WANT TO USE PAYPAL, YOU ARE WELCOME TO ORDER BY PHONE (VISA/MC)
413-339-8527
IF YOU REACH MESSAGE, PLEASE LEAVE NAME AND PHONE # AND WE WILL RETURN YOUR CALL
---
Lemon Olive Oil Cleanse List of Supplies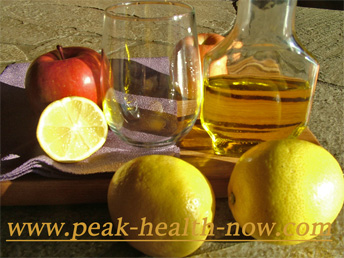 Here is What You Need for Your Lemon Olive Oil Cleanse:
Time: This liver/gallbladder flush takes time. The active part of the process usually lasts from the time you drink the lemon juice and olive oil through noon of the following day.
If you work during the week, Saturday night and Sunday morning is your obvious choice.
In addition, during the day before, you will want to eat basically a fat and protein free diet. I simply eat organic apples during this time. It is simple, you don't get into food preparation and therefore it is easier to avoid thinking about food too much.
This is YOUR time to heal, to be with you, with your body and let go of daily stresses...
A supportive environment: comfortable place and supportive people are a must for your lemon olive oil cleanse adventure.
6 - 8 organic apples or 2 quarts organic apple juice
16 oz first cold-pressed Extra Virgin Olive Oil: (yes, use GOOD olive oil).
3 or 4 large lemons (lemons and oranges should be organic if at all possible).
2 medium sized oranges
Small box baking soda: This is to brush your teeth with immediately after each dose of lemon and olive oil. It will keep the strong acids of the lemon from attacking tooth enamel.
Clean toothbrush: To use for brushing the baking soda on your teeth.
Sturdy hot water bottle: Filled with very warm water, this is a wonderful touch for your cleanse. Lying on your right side, place it just under your right ribcage where your liver and gallbladder are. VERY comforting!
Comfortable couch: To lie on between doses of lemon and olive oil.
Pillows and warm blanket: To keep you warm and cozy while taking the cleanse. If my experience is any indicator, this kind of liver/gallbladder flush is 'warrior work,' so DO pamper yourself any way you can!
Clock: The lemon juice and olive oil is taken every half hour, so the clock will guide you.
and...
Some 'intestinal fortitude!'



Lemon Olive Oil Cleanse: Beginners to Advanced
Lemon Olive Oil Cleanse: Reader Question
Coffee Enema: Liver Cleanse and More!
Is There an Easier Way Than Drinking Olive Oil?
© 2008 - 2017 ™Peak Health Now.com. All rights reserved. 

Disclaimer: Any and all articles, answers and comments on this site are for general information, and are not intended to be a substitute for your informed professional medical or other professional advice. 

You are responsible for the results or consequences of your choices based on general information presented here. Information is used at your own risk. 

The owner expressly disclaims liability for any product, manufacturer, distributor, service, or service provider or any opinion expressed in answers or comments. For all health and medical questions, please consult with your doctor. By viewing this site, you are stating that you agree with this disclaimer.