The safest, most effective therapies for optimal health!

---
by Ellen Landauer
Lemon Olive Oil Cleanse List of Supplies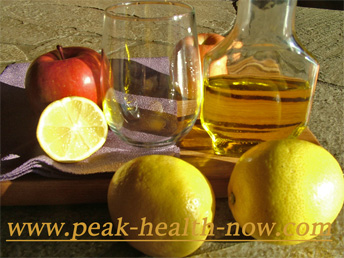 Here is What You Need for Your Lemon Olive Oil Cleanse:
Time: This liver/gallbladder flush takes time. The active part of the process usually lasts from the time you drink the lemon juice and olive oil through noon of the following day.
If you work during the week, Saturday night and Sunday morning is your obvious choice.
In addition, during the day before, you will want to eat basically a fat and protein free diet. I simply eat organic apples during this time. It is simple, you don't get into food preparation and therefore it is easier to avoid thinking about food too much.
This is YOUR time to heal, to be with you, with your body and let go of daily stresses...
A supportive environment: comfortable place and supportive people are a must for your lemon olive oil cleanse adventure.
6 - 8 organic apples or 2 quarts organic apple juice
16 oz first cold-pressed Extra Virgin Olive Oil: (yes, use GOOD olive oil).
3 or 4 large lemons (lemons and oranges should be organic if at all possible).
2 medium sized oranges
Small box baking soda: This is to brush your teeth with immediately after each dose of lemon and olive oil. It will keep the strong acids of the lemon from attacking tooth enamel.
Clean toothbrush: To use for brushing the baking soda on your teeth.
Sturdy hot water bottle: Filled with very warm water, this is a wonderful touch for your cleanse. Lying on your right side, place it just under your right ribcage where your liver and gallbladder are. VERY comforting!
Comfortable couch: To lie on between doses of lemon and olive oil.
Pillows and warm blanket: To keep you warm and cozy while taking the cleanse. If my experience is any indicator, this kind of liver/gallbladder flush is 'warrior work,' so DO pamper yourself any way you can!
Clock: The lemon juice and olive oil is taken every half hour, so the clock will guide you.
and...
Some 'intestinal fortitude!'



Lemon Olive Oil Cleanse: Beginners to Advanced
Lemon Olive Oil Cleanse: Reader Question
Coffee Enema: Liver Cleanse and More!
Is There an Easier Way Than Drinking Olive Oil?
---
Ellen Landauer is an expert with over 40 years in-depth study and experience of the safe and effective use of nutritional supplements, botanical extracts and detoxification methods.
She is Certified as an Advanced Practitioner of Structural Integration body therapy developed by Dr. Ida P. Rolf - also known as Rolfing. This hands-on therapy is the deepest, most comprehensive body alignment therapy. 
---
Ellen Landauer is also a NEWLY PUBLISHED AUTHOR!
---
To learn more about Ellen Landauer, see her detailed bio HERE

---
The Food and Drug Administration has not evaluated any of the statements on this website. Products offered on this website are not intended to diagnose, treat, cure, or prevent any disease. The information presented on this site is provided for informational purposes only; it is not meant to be a substitute for medical advice or diagnosis provided by your physician or other medical professional. If you have any health problem, please consult with a physician or health care provider before using any natural products. Peak Health Now and/or its product suppliers assume no liability for any injury, illness or adverse affects caused by the misuse and/or use of the information or products presented on this website.

© 2008 - 2022 ™Peak Health Now.com. All rights reserved. 
Throughout this website, statements are made pertaining to the properties and/or functions of food and/or nutritional products. These statements have not been evaluated by the FDA and these materials and products are not intended to diagnose, treat, cure or prevent any disease. For all health and medical questions, please consult with your doctor. By viewing this site, you are stating that you agree with this disclaimer.