Disclaimer: Click to read.
---
Glytamins
Gallbladder Flush:
Quickest, Easiest Support for Gallstones Concerns!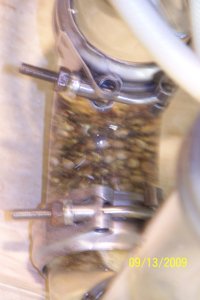 Photo to your right: Glytamins gallbladder flush results...
...sent to me by Spencer Feldman, the scientist who developed this painstakingly researched product. It shows gallstones captured in the trap of a colonic machine at a doctor's office.
In an effort to get rid of gallstones, the patient had taken one Glytamins suppository every night for 6 days in a row.
The gallstones in the photo were safely and effectively released during the Glytamins gallbladder flush, after which the patient had a colon hydrotherapy session.
Highly effective, wouldn't you say?
Glytamins Gallbladder Flush is
Quick and Easy!
Glytamins gallbladder flush makes drinking olive oil obsolete!
Glytamins gallbladder flush protocol:
Just before getting in bed at night, unwrap a Glytamins suppository (20 seconds).
Lubricate rectal area. Vaseline officially recommended, but you can substitute coconut, olive or other natural oil. Time: 15 seconds.
Insert suppository (10 - 15 seconds if you are a beginner; 2 - 3 seconds if you are a pro ;-)
Lie down.
Enjoy!
Total time for protocol: one minute!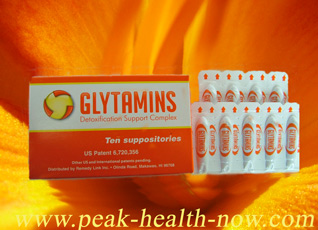 Buy Glytamins Detoxification Support Suppositories!





© 2008 - 2018 ™Peak Health Now.com. All rights reserved. 
Throughout this website, statements are made pertaining to the properties and/or functions of food and/or nutritional products. These statements have not been evaluated by the FDA and these materials and products are not intended to diagnose, treat, cure or prevent any disease. For all health and medical questions, please consult with your doctor. By viewing this site, you are stating that you agree with this disclaimer.