The safest, most effective therapies for optimal health!

---
by Ellen Landauer
Hair Analysis Testing:
What Benefits Can I Obtain?
Hair Analysis Testing: a question from a reader...
...How can Hair Analysis help me - what benefits can I obtain? How much does it cost?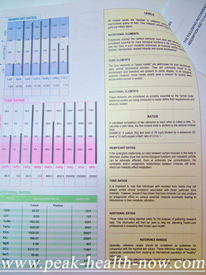 The Trace Elements Hair Analysis Report gives you the following: 
Hair Mineral Reading: Precise measurement of 36 minerals including major and trace nutrient minerals, toxic metals such as mercury, and some neutral minerals.
Hair Nutrient Mineral Ratios: Detailed ratios between all the nutrient minerals to show what you may have too much of in proportion to some you may have too little of.
**Nutrient mineral ratios are AS (if not MORE) important than individual nutrient mineral readings!**
Nutrient Mineral / Toxic Metal Ratios: Detailed ratios between significant toxic metals and nutrient minerals. For example, if you have too little Calcium in comparison to Lead, that shows your body does not have enough Calcium to oppose the Lead.
Accurate Metabolic Typing: Hair Analysis by Trace Elements Laboratory is the most accurate way to determine your Metabolic Type - Fast or Slow rated 1 - 4. For example, a Slow Metabolic Type 3 has a different Adrenal/Thyroid imbalance than a Slow Metabolic Type 1.
Diet Recommendations Especially for YOU!: Individualized dietary recommendations just for you.
IMPORTANT: **The REAL help that your Trace Elements Hair Analysis will give you is when you 'work the program,' in other words when you take action and make some simple changes in diet.** 
NOTE: There is a wide variety of foods to choose not matter what the recommendations are, so not to worry about a Spartan type diet (unless you consider restricting junk processed foods objectionable ;-).
Individualized Supplement Program Perfect for YOU!: This is the crowning glory of the Trace Elements Hair Analysis program; supplements formulated specifically for bringing the different Metabolic Types most efficiently into balance.
How does all this help..?
Trace Elements Hair Analysis Program:
Fine-Tuning for Your Metabolism!
Your Metabolic rate and hence, your Metabolic Type as revealed by Trace Elements Hair Analysis, is determined by your Autonomic Nervous System.
Your Autonomic Nervous System functioning can be too fast (i.e. Sympathetic Dominant - locked in fight-or-flight mode), OR too slow (Parasympathetic Dominant - stuck in a low energy cycle with chronic tiredness, slow digestion and lack of ambition).
Metabolic rate is intimately related to thyroid and adrenal function. Individualizing diet and supplements to best support your Metabolic Type is vital to well-being!
Autonomic Nervous System balance has an effect on EVERY SINGLE process in your body, such as digestion, hormonal balance, mood, energy level - even neurotransmitters and every enzyme activity in your body! 
When your metabolic rate is excellent, your body will even cleanse toxins out of the tissues MUCH more efficiently!
Balancing your metabolism is the KEY to providing a solid foundation for ALL aspects of health. 
Following the recommendations in your Trace Elements Hair Analysis Test Report is ESSENTIAL for balancing your Metabolic Rate and optimizing your health!
Get Your Trace Elements Hair Analysis Test Kit
---
Ellen Landauer is an expert with over 40 years in-depth study and experience of the safe and effective use of nutritional supplements, botanical extracts and detoxification methods.
She is Certified as an Advanced Practitioner of Structural Integration body therapy developed by Dr. Ida P. Rolf - also known as Rolfing. This hands-on therapy is the deepest, most comprehensive body alignment therapy. 
---
Ellen Landauer is also a NEWLY PUBLISHED AUTHOR!
---
To learn more about Ellen Landauer, see her detailed bio HERE

---
The Food and Drug Administration has not evaluated any of the statements on this website. Products offered on this website are not intended to diagnose, treat, cure, or prevent any disease. The information presented on this site is provided for informational purposes only; it is not meant to be a substitute for medical advice or diagnosis provided by your physician or other medical professional. If you have any health problem, please consult with a physician or health care provider before using any natural products. Peak Health Now and/or its product suppliers assume no liability for any injury, illness or adverse affects caused by the misuse and/or use of the information or products presented on this website.

© 2008 - 2022 ™Peak Health Now.com. All rights reserved. 
Throughout this website, statements are made pertaining to the properties and/or functions of food and/or nutritional products. These statements have not been evaluated by the FDA and these materials and products are not intended to diagnose, treat, cure or prevent any disease. For all health and medical questions, please consult with your doctor. By viewing this site, you are stating that you agree with this disclaimer.