Disclaimer: Please scroll to bottom of page for disclaimer.
---
Enema Equipment Care:
How to Cleanse an Enema Bulb
Enema equipment care is simple when you know how best to cleanse your supplies.
Here are instructions for thorough cleansing of an 8 oz enema bulb used for the easy-to-retain coffee enema.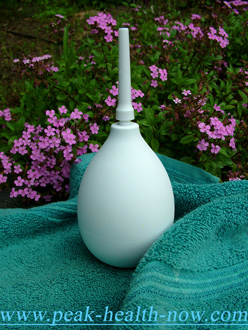 This enema equipment cleansing article was inspired by a client of mine who is beginning a coffee enema liver detox protocol.
She purchased a Cara brand 8 oz enema bulb (like the one to your right) and wondered how to clean it when you can't actually scrub the inside surface.
Answer:
The 8 oz bulb is a very handy piece of enema equipment for making coffee cleanse much more convenient and easy to retain.
Here are suggestions for keeping it clean:
First, fill with water couple times and shake, squeeze and rinse.
Then, a good squirt of detergent in warm water for the wash - I just use a 16 oz plastic container set aside for just that purpose for the solution.
*Every couple weeks, you can add a bit of Clorox to the soap water; not too often as Clorox bleach will tend to break down the materials over time.
When rinsing, I leave the pipe part of it on, for the most part - as constantly removing it will tend to stretch the opening and it won't last as long. Also, it will take up the soap solution better. You can quite thoroughly clean the bulb with pipe in place as I explain below.
Fill bulb with generous amount of the solution leaving room to shake it. Shake and empty.
To clean the pipe, you can use some thin (very thin) pipe cleaners. Also, every few weeks you can take it apart and clean pipe out with a swab dipped in soap and clorox solution.
For a really thorough cleaning, add only couple oz soap solution and hold bulb upright. Squeeze most of the air out.
Then, press the sides of the bulb together and scrub the inner walls of the bulb against one another from all different angles. This is the only way I know to scrub the inside well without inserting an instrument that can damage it.
When done, of course empty and rinse well until pure water comes out. A soapy dish scrunge is good to gently wash the outside. Once bulb is rinsed inside and out, hold upside down and squeeze forcefully a few times to expel as much water as possible.
A rinse with warm water before each use might be a good idea, too.



Enema Equipment In-Depth Discussion of Exactly What You Need for Coffee Enema
© 2008 - 2018 ™Peak Health Now.com. All rights reserved. 
Disclaimer: Throughout this entire website, statements are madepertaining to the properties and/or functions of food and/or nutritional products. These statements have not been evaluated by the FDA and these materials and products are not intended to diagnose, treat, cure or prevent any disease.
Any and all articles, answers and comments on this site are for general information, and are not intended to be a substitute for your informed professional medical or other professional advice. 

You are responsible for the results or consequences of your choices based on general information presented here. Information is used at your own risk. 

The owner expressly disclaims liability for any product, manufacturer, distributor, service, or service provider or any opinion expressed in answers or comments. For all health and medical questions, please consult with your doctor. By viewing this site, you are stating that you agree with this disclaimer.