Disclaimer: Click to read.
---
Endosterol
Phytonutrient Complex
Endosterol helps both men and women to support and maintain hormonal health and sexual response.
Saw palmetto, beta sitosterol and pumpkin seed extract administered by suppository for maximum benefits!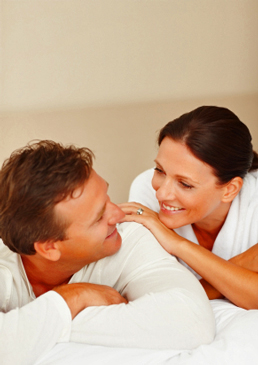 Are you a man or woman to whom attractiveness, vitality, hormonal health and sexual response are important?
In addition to a healthy lifestyle, the phytosterols and other ingredients in this concentrated formula are VERY supportive of hormone production.
Both men and women need testosterone, men obviously in larger amounts, women in small amounts. Low testosterone in a man leads to loss of maleness and the insidious onset of feminization and poor health. In women, lack of testosterone can diminish libido and ability to achieve orgasm.
These phytonutrient complex suppositories help men and women of all ages increase sexual vitality and maintain hormonal health.
NOTE: Each page below opens in new window.


Endosterol for Mens Hormonal Health
Endosterol for Abundant Testosterone and Healthy Prostate
Protocol for Prostate Health


Endosterol Customer Questions Answers and Discussion
'Near-Perfect Batch of Product Not Good Enough for Company Owner'
Customer Question About Prostate Issues
Endosterol Side Effects Question and Answer
Womens Hormonal Health
Menopause Symptoms
Saw Palmetto for Women
My Uterine Fibroid Story


Buy Endosterol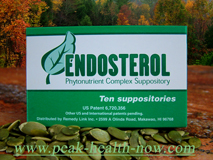 Endosterol - FREE shipping! Save $120.00 on quantity of 6 ($20.00 discount per box)
© 2008 - 2018 ™Peak Health Now.com. All rights reserved. 
Throughout this website, statements are made pertaining to the properties and/or functions of food and/or nutritional products. These statements have not been evaluated by the FDA and these materials and products are not intended to diagnose, treat, cure or prevent any disease. For all health and medical questions, please consult with your doctor. By viewing this site, you are stating that you agree with this disclaimer.