The safest, most effective therapies for optimal health!

---
by Ellen Landauer
Detox Diet Tips
Food Choice Tips
Detox diet works best when you minimize or limit certain foods. Here are foods to avoid if you are doing a body cleanse.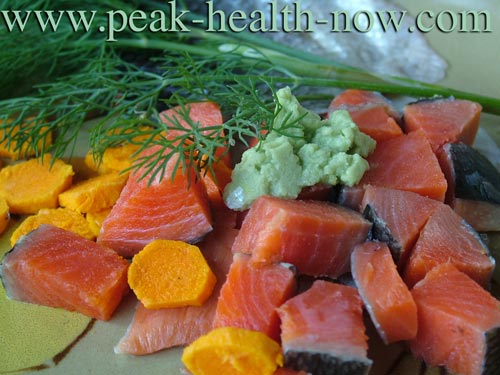 PHOTO ABOVE: Delicious Wild-Caught Alaskan Sockeye Salmon is clean-burning fuel for health and vitality!
---
---
Detox Diet Tips: What NOT to Eat
Refined Grain Products: Eating much refined grains will defeat your colon cleanse ambitions! No detox diet can succeed without eliminating white flour. 
Why? Because refined grain products become like 'paste' as they pass through your digestive tract.
Some of the most virulent life forms that you do NOT want in your gut THRIVE on residues of high-carb foods which 'gunk up' the walls of the colon. Candida yeast and other fungal infections, disease producing bacteria and (ugh!) parasites!
Alcoholic Beverages: Wine, beer and all hard liquor not only contain mycotoxins from the fermentation process, chemicals and preservatives. They are also 'super-carbs,' with blood sugar deranging effects greater than white sugar.

Candy: Even so-called 'natural' candies sweetened with such exotic potions as rice syrup, barley malt, fructose and agave syrup, to name just a few, are blood sugar spikers!
ALL white flour products including - bleached and 'fortified ones. Pasta, cakes, cookies, breads, etc.
Puffed ANYTHING! The process of making puffed cereals, and even such 'health foods' as brown rice cakes involves extremely high heat and pressure. This distorts the molecular structure of carbohydrates to such a degree that they become TOXINS to your body!
An experiment was performed in which 3 groups of rats were fed 3 different diets. The control group lived on a balanced commercial 'rat chow' formula. The second group only ate pure refined sugar. And the third group lived on puffed grain. OK, a little test for you! Which group of rats lived longest? Which group died first? (answers at the bottom of this section)
Refined, Processed Fats
Stay far away from ALL processed vegetable oils (popular ones are corn, safflower, canola and peanut oils).
Not only are they full of damaging free radicals - unless they are ORGANIC, the crops from which they are manufactured are usually heavily sprayed with very toxic pesticides. Cottonseed oil is one of the worst in this regard - ALWAYS avoid!
With the exception of first cold-pressed extra-virgin avocado oil, coconut oil or olive oil all vegetable oils contain a disproportionately large amount of omega-6 essential fatty acids compared to omega-3's.
Too much omega-6 and too little omega-3 essential fatty acids have been implicated in contributing to increased risk of cancer!
If you are knowledgeable, maybe you are asking,'What about flax oil? That has a lot of omega-3's, doesn't it?'
The big problem with flax oil is its instability. It becomes rancid VERY fast; most flax oil you buy is already spoiled, containing an abundance of damaging free radicals. Free radicals in the body are one of the things that increases cancer risk.
Best to avoid flax oil!
**(In the rat experiment, the chow-fed rats lived longest. The first group to die off was...the rats that ate puffed grains! Incredible that the rats living on REFINED SUGAR lived longer than the ones eating puffed grain!** 
PHOTO BELOW: The most fabulous RAW Extra Virgin Cod-Liver Oil!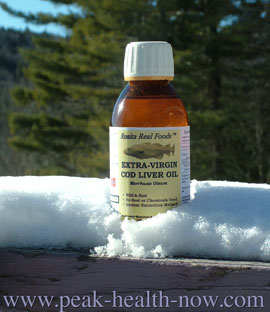 ---
Ellen Landauer is an expert with over 40 years in-depth study and experience of the safe and effective use of nutritional supplements, botanical extracts and detoxification methods.
She is Certified as an Advanced Practitioner of Structural Integration body therapy developed by Dr. Ida P. Rolf - also known as Rolfing. This hands-on therapy is the deepest, most comprehensive body alignment therapy. 
---
Ellen Landauer is also a NEWLY PUBLISHED AUTHOR!
---
To learn more about Ellen Landauer, see her detailed bio HERE

---
The Food and Drug Administration has not evaluated any of the statements on this website. Products offered on this website are not intended to diagnose, treat, cure, or prevent any disease. The information presented on this site is provided for informational purposes only; it is not meant to be a substitute for medical advice or diagnosis provided by your physician or other medical professional. If you have any health problem, please consult with a physician or health care provider before using any natural products. Peak Health Now and/or its product suppliers assume no liability for any injury, illness or adverse affects caused by the misuse and/or use of the information or products presented on this website.

© 2008 - 2022 ™Peak Health Now.com. All rights reserved. 
Throughout this website, statements are made pertaining to the properties and/or functions of food and/or nutritional products. These statements have not been evaluated by the FDA and these materials and products are not intended to diagnose, treat, cure or prevent any disease. For all health and medical questions, please consult with your doctor. By viewing this site, you are stating that you agree with this disclaimer.