The safest, most effective therapies for optimal health!

---
by Ellen Landauer
The Best Olive Oil: How is it Produced?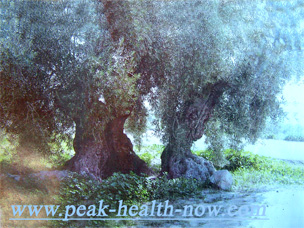 The best olive oil is unique among vegetable oils because it can (and should be) consumed in its most raw, first cold-pressed, extra virgin, unprocessed form! Nut and seed oils have to be refined at least somewhat to make them suitable for bottling and distribution.
The best olive oil not only tastes sublime, but has a plethora of health benefits. Rich in phytosterols, with a nice balance of omega-6 and omega-3 essential fatty acids, it supports the cardiovascular, digestive, skeletal and endocrine systems. In addition, it strengthens cell membranes, skin. This super food has even been shown by studies published in the Archives of Opthalmology to reduce the risk of age-related macular degeneration (AMD)!
The Best Olive Oil: VERY Hard to Find!
If you have a streak of skepticism in you, you will be at an advantage to find the best olive oil.
Unfortunately, there is a very shady side to the production and distribution of this healthy food. Do you know that olive oil scams are so common that upwards of 70% of all olive oil is adulterated with oils that are actually BAD for you because they are cheap, rancid, refined and high in cancer-causing omega-6 fatty acids?
WHY is the Best Olive Oil so Difficult to Obtain?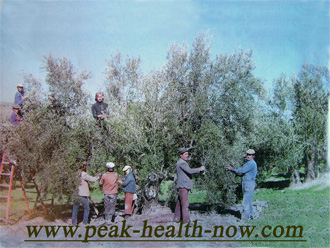 Producing the best olive oil is a labor of love. It involves intensive human involvement with the process from beginning to end.
The trees take a good 50 years to mature. They only grow in limited geographical areas where the climate and soil conditions are just right.
Making first cold-pressed extra virgin olive oil is an exacting skill. The fruit must be picked green, then sorted and pulverized immediately after for best results. The juice is then centrifuged to separate oil and water.
During all stages of production, nutritional integrity is insured by protection from heat, light and contamination. It is packaged in cans (ideal because it is kept entirely safe from light), or dark brown or green bottles (next best).
NOTE: Don't even bother to buy olive oil packed in clear glass. Even if it started out as the best olive oil, exposure to light degrades the healthy chlorophyll, phytosterols and fatty acids.
Once it is packed in air tight containers that protect from light, it must be stored in a cool place to preserve the delicate compounds that are so health-giving.
Freshness is VERY Important
You may not have thought about this; fresher olive oil is better. Only recently, I learned from an expert with decades of experience that freshness makes a huge difference in taste and health benefits.
If you never considered the freshness factor, you are in good company...
I've bought olive oil for years and never thought to inquire as to when it was harvested! Of course, this makes sense; the best olive oil is a RAW food - and FRESH raw foods give you the most nutrition and the best taste.



My 30-Year Love Affair With the Queen of All Olive Oils
Olive Oil Inside and Out for Skin Care
Avoid Scams to Get the Best Olive Oil
---
Ellen Landauer is an expert with over 40 years in-depth study and experience of the safe and effective use of nutritional supplements, botanical extracts and detoxification methods.
She is Certified as an Advanced Practitioner of Structural Integration body therapy developed by Dr. Ida P. Rolf - also known as Rolfing. This hands-on therapy is the deepest, most comprehensive body alignment therapy. 
---
Ellen Landauer is also a NEWLY PUBLISHED AUTHOR!
---
To learn more about Ellen Landauer, see her detailed bio HERE

---
The Food and Drug Administration has not evaluated any of the statements on this website. Products offered on this website are not intended to diagnose, treat, cure, or prevent any disease. The information presented on this site is provided for informational purposes only; it is not meant to be a substitute for medical advice or diagnosis provided by your physician or other medical professional. If you have any health problem, please consult with a physician or health care provider before using any natural products. Peak Health Now and/or its product suppliers assume no liability for any injury, illness or adverse affects caused by the misuse and/or use of the information or products presented on this website.

© 2008 - 2022 ™Peak Health Now.com. All rights reserved. 
Throughout this website, statements are made pertaining to the properties and/or functions of food and/or nutritional products. These statements have not been evaluated by the FDA and these materials and products are not intended to diagnose, treat, cure or prevent any disease. For all health and medical questions, please consult with your doctor. By viewing this site, you are stating that you agree with this disclaimer.