Disclaimer: Click to read.
---
Xeneplex Coffee
Suppositories
Quick, Convenient Alternative to an Enema
Xeneplex coffee suppositories are a quick, easy way to get most of the benefits of a coffee enema. Their action is enhanced by added glutathione and magnesium di-potassium EDTA.
Traditional coffee enemas like those used in the Gerson Cancer clinics are a wonderful ritual. But they DO take time. Including preparation, administering, relaxing (the best part of course) and clean-up, a regular coffee enema can take up to an hour.
You might think of Xeneplex as your 'instant coffee' enema! It takes less than 30 seconds to insert a suppository, wash your hands and lie down for a blissful sleep.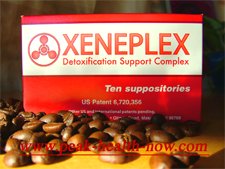 Buy Some Xeneplex for You!

Xeneplex vs. Coffee Enema: An In-Depth Look at Pros and Cons of Each

Very Economical Xeneplex Alternative



© 2008 - 2018 ™Peak Health Now.com. All rights reserved. 
Throughout this website, statements are made pertaining to the properties and/or functions of food and/or nutritional products. These statements have not been evaluated by the FDA and these materials and products are not intended to diagnose, treat, cure or prevent any disease. For all health and medical questions, please consult with your doctor. By viewing this site, you are stating that you agree with this disclaimer.