Wild Sockeye Salmon Oil
Omega-3 Wild Sockeye Salmon Oil - whole, non-distilled and cold-filtered - from wild Alaskan Sockeye was PREVIOUSLY the best fish oil product I could find.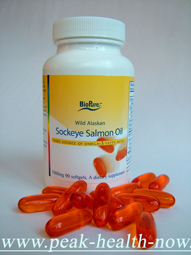 NOTE: We no longer carry Wild Alaskan Sockeye Salmon Oil as we do not feel it represents the ultimate in quality compared to some new fish oil products we have discovered which FAR outstrip it in excellence.
---
Incomparably Better than
Wild Sockeye Salmon Oil..!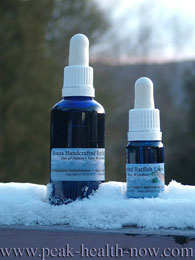 PHOTO ABOVE:
Totally RAW, clean, unprocessed fish liver oil for You!
Our new fish oil products are the ULTIMATE in purity and freshness: 
Nature Made Fish Oil: You Just CAN"T Get it Fresher than THIS! 
Chimera Monstrosa Linnaeus (Ratfish) TOTALLY RAW Oil!
Unlike ANY other fish oil product! Ratfish liver oil is the cleanest, healthiest, least processed that I know of.
Chimera Monstrosa Linnaeus is a fish that split off from the shark family over 400 million years ago - harvested from deep, cold ocean waters at northernmost tip of Norway.