Vita-Minz Plus!
Montiff's Multi Extraordinaire: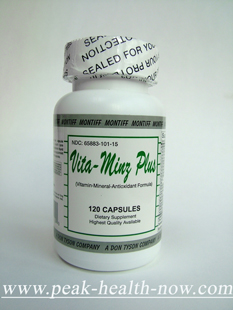 Vita-Minz Plus Facts:
Vita-Minz Plus is a unique formulation of the highest quality vitamins and minerals, plus revolutionary antioxidants, in capsule form, to help maintain good health and increase longevity.
NOTE: The following ingredient amounts are for ONE capsule! I point this out because many companies display larger potency, but in the fine print it says for 3 or more capsules. This tactic makes it look like you are getting a higher potency product.
NOTE: Mr. Don Tyson, founder of Montiff, has 45 years experience in medical technology and research. His Vita-Minz Plus formula contains a comprehensive complement of vitamin and mineral co-factors, as well as trace minerals, quercetin and Alpha Lipoic Acid.
In my conversations with Mr. Tyson, he consistently emphasizes BALANCE in supplementation. Vita-Minz Plus is a VERY balanced formula.
You might want to notice the fine points in this very expertly formulated Multi:
Two different forms of Vitamin A
Bioactive (5'Phosphate) forms of Vitamins B-2 and B-6
Two forms of Niacinamide
Two forms of Vitamin C
Three forms of Vitamin E
Three forms of Calcium
Unique blend of plant-based antioxidants such as Lutein and Bilberry extract.
Montiff brand advanced nutraceuticals are one of a very few select brands I use in my practice, as well as benefit from personally.
Vita-Minz Plus Ingredients per 1 Capsule
Each capsule contains the following:
Vitamins:
Vitamin A (Beta Carotene) 2000 IU, Vitamin A (Retinyl Palmitate) 1000 IU, Vitamin B-1 (Thiamine HCL) 10 mg., Vitamin B-2 (Riboflavin 5'Phosphate) 10 mg., Niacin 3 mg., Niacinamide 5 mg., Niaciniamide Ascorbate 2 mg., Vitamin B-6 (Pyridoxal 5'Phosphate) 10 mg., Bitamin B-6 (Pyridoxine HCL) 2 mg., Vitamin B-12 80 mcg., Folic Acid 200 mcg., Biotin 160 mcg., Vitamin C (Ascorbic acid) 30 mg., Vitamin C (Ascorbyl Palmitate) 10 mg., Vitamin D-3 80 IU, Vitamin E (d'Alpha Tocopheryl Succinate) 25 IU, Vitamin E (d'Alpha Tocopheryl Acetate) 80 IU, Vitamin E (Natural Vitamin E) 10 IU, Vitamin K 20 mcg.
Minerals:
Boron 5 mg., Calcium Pantothenate 80 mg., Calcium (Citrate) 20 mg., Calcium (Dicalcium Phosphate) 20 mg., Chromium Piccolinate 30 mcg., Copper 0.3 mcg., Iodine (Potassium Iodide) 40 mcg., Iron (Citrate) 3 mg., Magnesium (Oxide) 55 mg., Manganese Ascorbate 0.5 mg., Molybdenum Ascorbate 19 mcg., Potassium Citrate 24 mcg., Selenium (Proteinate) 20 mcg., Silicon (Silica) 3 mg., Zinc (Ascorbate) 5 mg.
Lipotrophic (fat emulsifying) Factors:
Inositol (Rice Extract) 12 mg., Choline 20 mg.
Antioxidant Blend with Amino Acids:
Quercetin 5 mg., Alpha Lipoic Acid 15 mg., Lutein 1 mg., Lycopene 1 mg., Grape Seed extract 10 mg., Pine Bark extract 10 mg., Gingko Biloba 15 mg., Bilberry Extract 8 mg., Green Tea extract 3 mg., Taurine 10 mg., Gamma Oryzanol 10 mg., Paba (Para-Amino Benzoic Acid) 20 mg.