The safest, most effective therapies for optimal health!

---
by Ellen Landauer
Vita-Minz Plus!
Montiff's Multi Extraordinaire: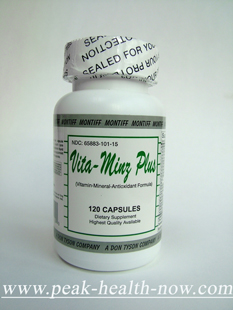 ---
Vita-Minz Plus Facts:
Vita-Minz Plus is a unique formulation of the highest quality vitamins and minerals, plus revolutionary antioxidants, in capsule form, to help maintain good health and increase longevity.
NOTE: The following ingredient amounts are for ONE capsule! I point this out because many companies display larger potency, but in the fine print it says for 3 or more capsules. This tactic makes it look like you are getting a higher potency product.
NOTE: Mr. Don Tyson, founder of Montiff, has 45 years experience in medical technology and research. His Vita-Minz Plus formula contains a comprehensive complement of vitamin and mineral co-factors, as well as trace minerals, quercetin and Alpha Lipoic Acid.
In my conversations with Mr. Tyson, he consistently emphasizes BALANCE in supplementation. Vita-Minz Plus is a VERY balanced formula.
You might want to notice the fine points in this very expertly formulated Multi:
Two different forms of Vitamin A
Bioactive (5'Phosphate) forms of Vitamins B-2 and B-6
Two forms of Niacinamide
Two forms of Vitamin C
Three forms of Vitamin E
Three forms of Calcium
Unique blend of plant-based antioxidants such as Lutein and Bilberry extract.
Montiff brand advanced nutraceuticals are one of a very few select brands I use in my practice, as well as benefit from personally.
---
Vita-Minz Plus Ingredients per 1 Capsule
Each capsule contains the following:
Vitamins:
Vitamin A (Beta Carotene) 2000 IU, Vitamin A (Retinyl Palmitate) 1000 IU, Vitamin B-1 (Thiamine HCL) 10 mg., Vitamin B-2 (Riboflavin 5'Phosphate) 10 mg., Niacin 3 mg., Niacinamide 5 mg., Niaciniamide Ascorbate 2 mg., Vitamin B-6 (Pyridoxal 5'Phosphate) 10 mg., Bitamin B-6 (Pyridoxine HCL) 2 mg., Vitamin B-12 80 mcg., Folic Acid 200 mcg., Biotin 160 mcg., Vitamin C (Ascorbic acid) 30 mg., Vitamin C (Ascorbyl Palmitate) 10 mg., Vitamin D-3 80 IU, Vitamin E (d'Alpha Tocopheryl Succinate) 25 IU, Vitamin E (d'Alpha Tocopheryl Acetate) 80 IU, Vitamin E (Natural Vitamin E) 10 IU, Vitamin K 20 mcg.
Minerals:
Boron 5 mg., Calcium Pantothenate 80 mg., Calcium (Citrate) 20 mg., Calcium (Dicalcium Phosphate) 20 mg., Chromium Piccolinate 30 mcg., Copper 0.3 mcg., Iodine (Potassium Iodide) 40 mcg., Iron (Citrate) 3 mg., Magnesium (Oxide) 55 mg., Manganese Ascorbate 0.5 mg., Molybdenum Ascorbate 19 mcg., Potassium Citrate 24 mcg., Selenium (Proteinate) 20 mcg., Silicon (Silica) 3 mg., Zinc (Ascorbate) 5 mg.
Lipotrophic (fat emulsifying) Factors:
Inositol (Rice Extract) 12 mg., Choline 20 mg.
Antioxidant Blend with Amino Acids:
Quercetin 5 mg., Alpha Lipoic Acid 15 mg., Lutein 1 mg., Lycopene 1 mg., Grape Seed extract 10 mg., Pine Bark extract 10 mg., Gingko Biloba 15 mg., Bilberry Extract 8 mg., Green Tea extract 3 mg., Taurine 10 mg., Gamma Oryzanol 10 mg., Paba (Para-Amino Benzoic Acid) 20 mg.





---
Ellen Landauer is an expert with over 40 years in-depth study and experience of the safe and effective use of nutritional supplements, botanical extracts and detoxification methods.
She is Certified as an Advanced Practitioner of Structural Integration body therapy developed by Dr. Ida P. Rolf - also known as Rolfing. This hands-on therapy is the deepest, most comprehensive body alignment therapy. 
---
Ellen Landauer is also a NEWLY PUBLISHED AUTHOR!
---
To learn more about Ellen Landauer, see her detailed bio HERE

---
The Food and Drug Administration has not evaluated any of the statements on this website. Products offered on this website are not intended to diagnose, treat, cure, or prevent any disease. The information presented on this site is provided for informational purposes only; it is not meant to be a substitute for medical advice or diagnosis provided by your physician or other medical professional. If you have any health problem, please consult with a physician or health care provider before using any natural products. Peak Health Now and/or its product suppliers assume no liability for any injury, illness or adverse affects caused by the misuse and/or use of the information or products presented on this website.

© 2008 - 2022 ™Peak Health Now.com. All rights reserved. 
Throughout this website, statements are made pertaining to the properties and/or functions of food and/or nutritional products. These statements have not been evaluated by the FDA and these materials and products are not intended to diagnose, treat, cure or prevent any disease. For all health and medical questions, please consult with your doctor. By viewing this site, you are stating that you agree with this disclaimer.