Disclaimer: Click to read.
---
Pure Hyaluronic Acid Serum:
Fabulous Multi-Purpose
Skin Rejuvenator
Pure Hyaluronic Acid Serum provides a superb natural moisturizing effect when applied topically (to the skin). This compound is natural to your own body, abundant from birth through teens, and declines with age and/or poor health habits.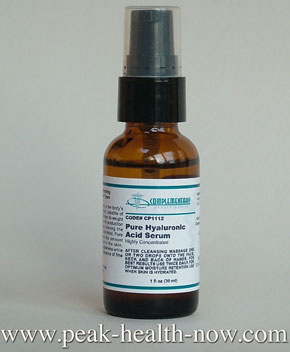 The decline in HA (Hyaluronic Acid) due to aging is the result of lower ability of skin to manufacture HA. Because HA is one essential that helps the skin retain water, less HA means less hydration of the skin. The skin becomes literally drier, dehydrated. It also becomes thinner, loses fullness and becomes looser. Wrinkles and older appearance are the result.

Young, healthy skin is smooth and elastic in large part because it is well supplied with HA. Topically applied pure Hyaluronic Acid can restore HA levels, hydrating your skin. HA rejuvenates skin, improving its health and also helps skin to attract and hold moisture. It not only helps smooth fine lines and reduce wrinkles, but also is soothing.
I personally use this product every day. I like to mix 1 pump of Hyaluronic Acid Serum with Real Estrogen Cream for a great facial rejuvenator (for women only).
© 2008 - 2018 ™Peak Health Now.com. All rights reserved. 
Throughout this website, statements are made pertaining to the properties and/or functions of food and/or nutritional products. These statements have not been evaluated by the FDA and these materials and products are not intended to diagnose, treat, cure or prevent any disease. For all health and medical questions, please consult with your doctor. By viewing this site, you are stating that you agree with this disclaimer.