Disclaimer: Please scroll to bottom of page for disclaimer.
---
Best Hyaluronic Acid Serum
The best Hyaluronic Acid Serum helps rejuvenate and condition skin. Because it attracts moisture, it helps hydrate. This aids in minimizing appearance of fine lines and wrinkles. Hydrating skin helps skin to be full and plump with moisture, providing more tone and lift.  

Hyaluronic Acid Serum
Skin Care Recipe
Hyaluronic Acid Serum topical use has been a part of my skin care and hair conditioning protocol for the last few years. 
Facial use: My personal recipe includes approx 1/4 teaspoon Estrogen cream, 1 or 2 pumps Hyaluronic Acid serum, and 2 - 4 drops Rosita Ratfish Liver oil (yes, you heard that right!  ;-) 
I mix all in the palm of my hand with a forefinger, then apply to face.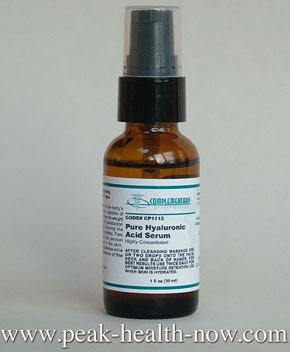 Pure Hyaluronic Acid Serum 1 fl oz
INGREDIENTS: De-ionized water, sodium hyaluonate (hyaluronic acid). Pure HA is made with 100% pure, non-animal based hyaluronic acid. Paraben free. For external use only. 

DIRECTIONS: Ideally 2x daily after cleansing skin while skin is still moist. Apply one pump from bottle and massage gently into skin. Excellent for use on face, back of hands, under chin and neck.
© 2008 - 2018 ™Peak Health Now.com. All rights reserved. 
Disclaimer: Throughout this entire website, statements are madepertaining to the properties and/or functions of food and/or nutritional products. These statements have not been evaluated by the FDA and these materials and products are not intended to diagnose, treat, cure or prevent any disease.
Any and all articles, answers and comments on this site are for general information, and are not intended to be a substitute for your informed professional medical or other professional advice. 

You are responsible for the results or consequences of your choices based on general information presented here. Information is used at your own risk. 

The owner expressly disclaims liability for any product, manufacturer, distributor, service, or service provider or any opinion expressed in answers or comments. For all health and medical questions, please consult with your doctor. By viewing this site, you are stating that you agree with this disclaimer.