The safest, most effective therapies for optimal health!

---
by Ellen Landauer
Oxytocin Nasal Spray Scams:

Would you put

THIS


up YOUR nose?
Oxytocin nasal spray scams: how do you tell a great product from an overpriced, overhyped poor quality one? 
Below, let's take a look at the ingredients in a prominently advertised product:
10 IU Oxytocin per serving (2 sprays). One spray 2x daily in each nostril.
Active ingredient: Oxytocin
Inactive ingredients: Benzalkonium Chloride, Citric Acid, Dextrose, Purified Water, Sodium Chloride, Sodium Citrate

NOTES:
At least 40 IU is needed to have any real benefit. In many reviews I read, it is common for users of above product to state that 3x the dose was needed to feel good.
'Purified Water' can mean anything. What you want is STERILE water.
Additionally, there were comments on increasing nasal irritation with use of product AND some also said the product made them agitated (the opposite of desired benefit) and attributed that to the additives.
---
Oxytocin Nasal Spray Scams
Consequences
Oxytocin Nasal Spray scams erode peoples' confidence in the spectacular benefits of a very safe neurohormone
The safety of oxytocin is largely based on the fact that your body makes this hormone naturally. In small doses oxytocin therapy rarely has side effects. 

Loss of confidence in this wonderful hormone happens because a low-potency, mass-produced product with toxic additives cannot possibly show you the kind of great feeling and healthy response possible with a superbly crafted formula.
Secondly, wasting your money. Because of the loose standards of the company, you may get a 'secondhand' or even 'thirdhand' item that has been returned one or more times, then re-shipped to you. 
This precious compound needs to be cared for properly. Even with preservatives, oxytocin nasal spray will degrade over time and under extremes of temperature both hot and cold. You also have no assurance that the pricey little bottle of elixir has been stored under ideal (refrigerated) conditions!
On top of all that, the recommended doses of the most popular products of this kind are FAR too low!
AND - you may find that with continued use, the mass-produced products with preservatives irritate your delicate sinuses!
---
Oxytocin Nasal Spray Scams:


Just What is in that Spray??

I am extremely particular about product purity and effectiveness with zero tolerance for questionable additives.
Typically, oxytocin nasal spray products contain additives to extend shelf life. This is because companies want distributors to be able to stockpile large amounts of product for resale. As well, it is MUCH cheaper to produce any product in huge batches. A sort shelf life would limit the amount of product produced at any one time.
Another reason for putting preservatives in oxytocin nasal spray is that the company can then advertise 'money-back guarantee,' make more sales, accept returns, and resell returned product to another customer. This compromises the already pathetic potency of these products.
A very popular such product contains Benzalkonium chloride (also used in decongestant sprays) as a preservative.
Here is what one study (1) in PubMed says: 'Most decongestant sprays contain the preservative benzalkonium chloride (BKC), which causes toxic reactions in the nose, eyes, ears, and lungs, and may exacerbate the symptoms of allergic rhinitis.'
(Benzalkonium chloride is popularly used in nasal decongestants). 
Adverse effects of benzalkonium chloride on the na... [Clin Ther. 1999] - PubMed - NCBI
Below, some info from drugs.com:
Check with your doctor if any of these most COMMON side effects persist or become bothersome:
Brief stinging at the application site.
Seek medical attention right away if any of these SEVERE side effects occur while taking benzalkonium chloride topical:
Severe allergic reactions (rash; hives; itching; difficulty breathing; tightness in the chest; swelling of the mouth, face, lips, or tongue).
Some oxytocin nasal sprays contain peppermint extract as well. I am not sure if such a compound can damage the oxt molecule, but I do know that peppermint extract is not recommended for topical (skin application) use. It would stand to reason that means it is a really bad idea to apply it to delicate mucous membranes!
I would not be sharing all this if I did not have an answer for you. 
What if there were an oxytocin nasal spray freshly made weekly in small batches - so clear, clean and potent that it could bring light into your life with no undesirable side effects? 
And what if the price of this precious liquid was insanely cheap compared to any other?
I am VERY excited to share my delightful experience of the best Oxytocin Nasal Spray!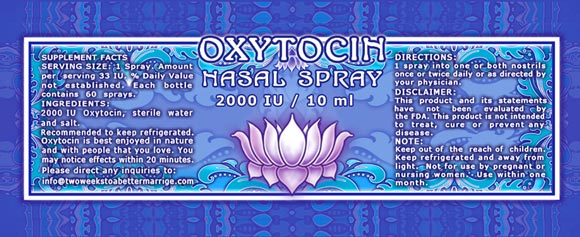 ---
Ellen Landauer is an expert with over 40 years in-depth study and experience of the safe and effective use of nutritional supplements, botanical extracts and detoxification methods.
She is Certified as an Advanced Practitioner of Structural Integration body therapy developed by Dr. Ida P. Rolf - also known as Rolfing. This hands-on therapy is the deepest, most comprehensive body alignment therapy. 
---
Ellen Landauer is also a NEWLY PUBLISHED AUTHOR!
---
To learn more about Ellen Landauer, see her detailed bio HERE

---
The Food and Drug Administration has not evaluated any of the statements on this website. Products offered on this website are not intended to diagnose, treat, cure, or prevent any disease. The information presented on this site is provided for informational purposes only; it is not meant to be a substitute for medical advice or diagnosis provided by your physician or other medical professional. If you have any health problem, please consult with a physician or health care provider before using any natural products. Peak Health Now and/or its product suppliers assume no liability for any injury, illness or adverse affects caused by the misuse and/or use of the information or products presented on this website.

© 2008 - 2022 ™Peak Health Now.com. All rights reserved. 
Throughout this website, statements are made pertaining to the properties and/or functions of food and/or nutritional products. These statements have not been evaluated by the FDA and these materials and products are not intended to diagnose, treat, cure or prevent any disease. For all health and medical questions, please consult with your doctor. By viewing this site, you are stating that you agree with this disclaimer.