The safest, most effective therapies for optimal health!

---
by Ellen Landauer
Montiff Amino Starter:
Powerful Proprietary Glutamine Formula: Gut Repair, Liver Health and Much More!
Montiff Amino Starter is a uniquely powerful proprietary blend of L-Alanyl-L-Glutamine, L-Alanine, L-Glutamine and Glycine.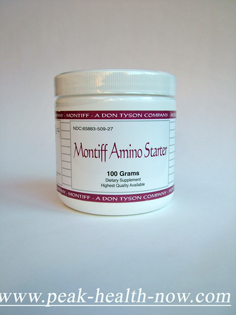 Montiff Amino Starter Story
Mr. Don Tyson, owner of Montiff and designer of most all of its formulas, personally told me this story in one of our long phone conversations.
You may be interested to know that this proprietary formula was originally designed by another company for saving the lives of infants born with dire life-threatening digestive weaknesses.
It worked, but for some strange reason, the original company stopped providing it. 
Mr. Tyson was so upset that babies were going to die, that he bought this formula for around TWO MILLION DOLLARS so he could help the babies.
He is also happy to note that the Amino Starter has been a blessing for grown-ups with severe digestive and other issues as well.
---
Montiff Amino Starter Facts
Montiff Amino Starter is Recommended For...
Helping to maintain proper gastrointestinal function
Aids in the repair of gastric Mucosa (lining of digestive tract)
Helping to maintain muscle mass
Stimulating muscle protein
Helping to improve immune functions
Helping to maintain and protect liver function i.e., synthesis of glutathione
Helping in the regeneration of the liver
Helping to permit a reduction in the length of hospital stays
Helping in the suppression of hypoglycemia in patients with insulin-dependent diabetes mellitus - (IDDM)
About Glutamine
Glutamine is a regulator of protein, fatty acid, and glycogen metabolism. Alanine and Glutamine are the primary glycogenic amino acids that regulate gluconeogenesis (carbohydrate/sugar formation) in the liver.
Heals Columnar Epithelial Cells Lining the Intestinal Tract: Two thirds of Glutamine is metabolized and utilized in the mucosal cells of the small intestine, which is why it is so important in maintaining proper gastrointestinal function. It promotes intestinal healing and may have beneficial results in patients with gastrointestinal disorders.
Glutamine is necessary for the function of immunocompetent cells, and enhances the immunity of the intestinal mucosa.
Glutamine is the precursor to Glutathione, a powerful antioxidant with detoxification properties, which enhances the immune protective system of cells.
Glutamine's Importance to Brain Chemistry: Glutamine crosses the blood brain barrier and is the precursor to Glutamate and Glutamic acid, which are excitatory neurotransmitters. It is also a precursor for GABA, which acts as an inhibitory transmitter, which induces a calming effect. Glutamic acid, along with Glutamate, provides glucose to provide energy for brain cells, which requires 75% of the available glucose in the body for its energy source to maintain normal brain metabolism.
L-Alanyl-L-Glutamine prevents negative nitrogen balance: Under conditions such as stress, fasting, surgery, traumatic injury, or sepsis, increased degradation of proteins (mainly skeletal muscle proteins) tips the nitrogen balance in the negative direction. This negative nitrogen balance results in a rapid and marked decrease in muscle concentrations of glutamine: this is a characteristic of such stress conditions. ALa-GLn has been reported to be effective in preventing a change in nitrogen metabolism under conditions of stress.
Help for Hypoglycemia: Pharmacotherapy for IDDM (type 1 diabetes mellitus) includes intensive insulin therapy that sometimes causes hypoglycemia. In diabetic patients, a decreased threshold for recognizing hypoglycemia and diabetic autonomic neuropathy lead to a lack of warning symptoms such as hunger and palpitations, resulting in a hypoglycemic state without any subjective symptoms. Alanine has been shown to stimulate the secretion of glucagons in patients with long-term diabetes mellitus who have reduced glucagen response: the glucagen response has an effect in increasing blood-sugar levels. These findings suggested that intravenous infusion of Ala-Gln stimulates the secretion of glucagen and inhibits hypoglycemia.
Montiff Amino Starter Ingredients
Servings (2 g) per container: 50
Each scoop (2 g) contains: Proprietary Blend of: L-Alanyl-L-Glutamine, L-Alanine L-Glutamine, Glycine
Other Ingredients: None.
Contains NO: starch, corn, milk, wheat, sugar, eggs, salt, artificial colors, binders, flavors, preservatives or fish derivatives.
Recommended Use:
Adults and children 10 years and older: Mix one scoop (approximately two grams) with 16oz of cold water or fruit juice before meals. Drink one to three times a day or as directed by a health care professional. Keep refrigerated.
**NOTE: A Multi-Vitamin/Mineral formula is recommended when taking amino acid formulations).** This is VERY important for maintaining proper nutrient balance in the body.
*These statements have not been evaluated by the Food and Drug Administration. These products are not intended to diagnose, treat, cure or prevent any diseases.



Buy Montiff Amino Starter
---
Ellen Landauer is an expert with over 40 years in-depth study and experience of the safe and effective use of nutritional supplements, botanical extracts and detoxification methods.
She is Certified as an Advanced Practitioner of Structural Integration body therapy developed by Dr. Ida P. Rolf - also known as Rolfing. This hands-on therapy is the deepest, most comprehensive body alignment therapy. 
---
Ellen Landauer is also a NEWLY PUBLISHED AUTHOR!
---
To learn more about Ellen Landauer, see her detailed bio HERE

---
The Food and Drug Administration has not evaluated any of the statements on this website. Products offered on this website are not intended to diagnose, treat, cure, or prevent any disease. The information presented on this site is provided for informational purposes only; it is not meant to be a substitute for medical advice or diagnosis provided by your physician or other medical professional. If you have any health problem, please consult with a physician or health care provider before using any natural products. Peak Health Now and/or its product suppliers assume no liability for any injury, illness or adverse affects caused by the misuse and/or use of the information or products presented on this website.

© 2008 - 2022 ™Peak Health Now.com. All rights reserved. 
Throughout this website, statements are made pertaining to the properties and/or functions of food and/or nutritional products. These statements have not been evaluated by the FDA and these materials and products are not intended to diagnose, treat, cure or prevent any disease. For all health and medical questions, please consult with your doctor. By viewing this site, you are stating that you agree with this disclaimer.