The safest, most effective therapies for optimal health!

---
by Ellen Landauer
Medicardium Question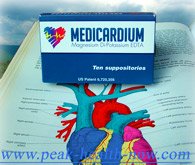 This Medicardium question about calcium deposits and calcium supplements in relation to this unique Magnesium Di-Potassium EDTA formula is posed by one of my thoughtful readers.
It is a perfect opportunity to emphasize the fact that you as an individual may have very different nutritional needs than the next person and there is no 'one size fits all' protocol. It is a common misconception that Calcium supplementation is suitable for everyone.
---
Medicardium Question: What is the Point of Taking Calcium?
A Reader Asks:
Firstly, please excuse any ignorance on my part. Am interested in your Medicardium chelation suppository but wondered whats the point of taking calcium supplements daily in the form of calcium citrate with magnesium phosphate and other trace elements if the calcium is most likely deposited in the wrong places like the tissues etc? Isn't calcium primarily for the heart and then the teeth and bones? Are you saying that this chelation product rearranges the calcium so that its deposited in these correct places in that order?
Answer:
Thanks for your question.
First, it is not ignorance to ask a question - it is ignorant not to ;-)
As far as taking calcium supplements, the truth is that not everyone should take them. You might find that rather astounding - but everyone is an individual with differing nutritional needs. This has become very evident to me through seeing the results of many of my clients' Trace Elements Hair Analysis tests.
Most people tend toward too much calcification - in the wrong places, especially as they get older. Osteoarthritis, gallstones, kidney stones, prostate stones and rigidity due to calcium invading muscle tissue are examples we see all around us.
The Medicardium helps as explained here:
I personally found more suppleness in my muscles from using Medicardium.
Ultimately, it is a good idea to do a Hair Analysis Test and find out (among many other things) whether you as an individual should even be taking calcium!
Then, when you utilize the Medicardium, your protocol will be congruent. (I personally haven't taken ANY calcium for a year and a half and feel better than before).
Hope this answer helps your understanding.
I wish you the very Best of Health!
Sincerely,
Ellen Landauer



Medicardium Protocols for Various Levels of Health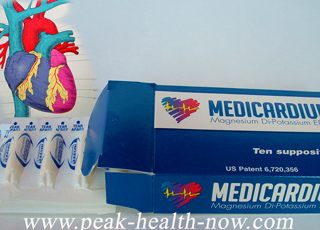 ---
Ellen Landauer is an expert with over 40 years in-depth study and experience of the safe and effective use of nutritional supplements, botanical extracts and detoxification methods.
She is Certified as an Advanced Practitioner of Structural Integration body therapy developed by Dr. Ida P. Rolf - also known as Rolfing. This hands-on therapy is the deepest, most comprehensive body alignment therapy. 
---
Ellen Landauer is also a  PUBLISHED AUTHOR!
---
To learn more about Ellen Landauer, see her detailed bio HERE

---
The Food and Drug Administration has not evaluated any of the statements on this website. Products offered on this website are not intended to diagnose, treat, cure, or prevent any disease. The information presented on this site is provided for informational purposes only; it is not meant to be a substitute for medical advice or diagnosis provided by your physician or other medical professional. If you have any health problem, please consult with a physician or health care provider before using any natural products. Peak Health Now and/or its product suppliers assume no liability for any injury, illness or adverse affects caused by the misuse and/or use of the information or products presented on this website.

© 2008 - 2022 ™Peak Health Now.com. All rights reserved. 
Throughout this website, statements are made pertaining to the properties and/or functions of food and/or nutritional products. These statements have not been evaluated by the FDA and these materials and products are not intended to diagnose, treat, cure or prevent any disease. For all health and medical questions, please consult with your doctor. By viewing this site, you are stating that you agree with this disclaimer.