The safest, most effective therapies for optimal health!
---
by Ellen Landauer
Medicardium
Research, Articles, Testimonials and More...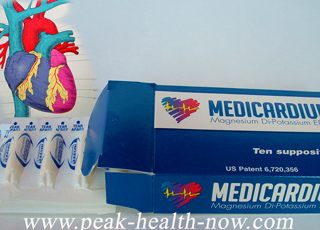 Medicardium Magnesium Di-Potassium EDTA Chelation suppositories are not only useful for heavy metal detoxification...
They are of great benefit for cardiovascular health, male erectile function, stress relief AND anti-aging!
EDTA chelation by suppository is highly effective, economical and safe compared with intravenous chelation and oral EDTA.

Here are some comments by Dr. Dietrich Klinghardt, MD, PhD, world expert on mercury and heavy metal detoxification:
"EDTA is quite safe...Rectal suppositories work quite well, whereas less than 5% of oral EDTA is ever absorbed. EDTA has a good clinical effect - increases vasodilation, antioxidant, anti-microbial, creates arginine and increases micro-circulation."
In some of the articles below, you will find comments from my clients. They describe relief from mercury toxicity symptoms, stress, insomnia, stiff aching muscles and joint pain.
Here is all you need to know about Medicardium pros and cons, side effects, and the science and research behind this EDTA chelation product.


Medicardium Facts
About This Unique Patented Formula
Detailed Fact Sheet on Medicardium


Protocols and How to Use the Suppositories
Protocols for Different Levels of Health and Stages of Life
Instructions on How to Use the Suppositories


Reviews and Testimonials
Discussions
Mercury Toxicity Protocol Discussion
Buy Medicardium: Free Priority Mail Shipping in Continental US
To buy Medicardium, and its companion products Xeneplex, Glytamins and Endosterol Detox Suppositories, Click Here 

---
Ellen Landauer is an expert with over 40 years in-depth study and experience of the safe and effective use of nutritional supplements, botanical extracts and detoxification methods.
She is Certified as an Advanced Practitioner of Structural Integration body therapy developed by Dr. Ida P. Rolf - also known as Rolfing. This hands-on therapy is the deepest, most comprehensive body alignment therapy. 
---
Ellen Landauer is also a NEWLY PUBLISHED AUTHOR!
---
To learn more about Ellen Landauer, see her detailed bio HERE

---
© 2008 - 2018 ™Peak Health Now.com. All rights reserved. 
Throughout this website, statements are made pertaining to the properties and/or functions of food and/or nutritional products. These statements have not been evaluated by the FDA and these materials and products are not intended to diagnose, treat, cure or prevent any disease. For all health and medical questions, please consult with your doctor. By viewing this site, you are stating that you agree with this disclaimer.