Trace Elements
Hair Analysis
Laboratory
Trace Elements hair analysis laboratory
does much more than test levels of mercury and other heavy metals. Comprehensive nutrient mineral testing and metabolic typing is included as well.
Below is a list of what is measured - all in one test - when you get tested by Trace Elements Hair Analysis Laboratory:
Trace Elements Hair Analysis Laboratory is the one to go to for a most comprehensive test.
What is included in their analysis report?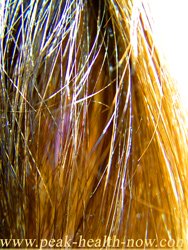 Nutritional Elements: The full spectrum of nutrient elements such as calcium, magnesium and zinc are precisely measured. These minerals have been extensively studied. They are considered essential for many biological functions in the body.
Nutrient elements play key roles in such metabolic processes as muscular activity, endocrine function, reproduction, skeletal integrity and overall development.
Toxic Elements: Also known as 'heavy metals,' toxic elements that are tested include mercury, lead, aluminum - and some less well known - such as beryllium, antimony and uranium (yes, they even measure that one)!
Toxic metals are quite well known for the havoc they wreak on many aspects of normal biochemical functioning.
Significant Ratios of nutrient minerals such as Ca/Mg (calcium / magnesium) and Fe/Cu (iron / copper) are shown on the test. Any imbalances that need to be rectified are brought to light.
If the synergistic relationship (ratio) between certain minerals in the body is disturbed, studies show that normal biological functions and metabolic activity can be adversely affected.
Ratios of Toxic Elements: These figures are taken into consideration to determine what needs to be done to detoxify, nourish, and restore balance.
You also get:
Metabolic Typing: Your autonomic nervous system needs to be balanced between parasympathetic (rest and digest mode) and sympathetic (stress/survival mode).
According to the results of your hair analysis, a metabolic profile is revealed.
Nutritional suggestions: Based on the test results, including the Metabolic Typing, food choice recommendations are provided.
Nutritional Supplements: Precise suggestions are offered, for rectifying imbalances through targeted use of nutritional supplements.
Trace Elements Hair Analysis Laboratory Standards of Excellence
Trace Elements, Inc. is a licensed and certified clinical laboratory that undergoes regular inspections with the Clinical Laboratory Divisiion of the Department of Health and Human Services, HGFA. All clinical laboratories must be certified by this agency and adhere to their established standards and protocol.
**However, the quality assurance/quality control programs at Trace Elements, Inc. far surpass those guidelines and requirements, undergoing a process of continual refinement and improvement of laboratory technique.**
Trace Elements Hair Analysis Laboratory is unique in that they specialize in hair analysis. They do not do any other kind of testing. Because they specialize only in hair analysis, their full attention is on the excellence of this particular technique.
Why I Chose Trace Elements Hair Analysis Laboratory
I chose this testing facility for a few reasons:
Personal Experience: My initial experience with Trace Elements hair analysis laboratory was as a patient years ago.
I am impressed with how congruent my hair analysis test results were with the results of more expensive medical tests. For example: both of them indicated depressed thyroid and adrenal function.
The difference between the medical testing and Trace Elements lab was that the analysis from Trace Elements included metabolic typing, detailed dietary suggestions and very precise nutritional supplement recommendations.
Comprehensive, Useful Information for the Patient: Trace Elements hair analysis is not just about discovering problems, but providing full details on solid solutions to rectify imbalances.
Excellent Pricing: I don't know how they do it...
The wealth of information for such a reasonable price - from just one hair analysis test - is quite a value for anyone!