The safest, most effective therapies for optimal health!

---
by Ellen Landauer
Nutritional Supplement Product Investigation
Saving You Time and Money!
Nutritional supplement product investigation is a personalized service that could easily save you a LOT of
time and money!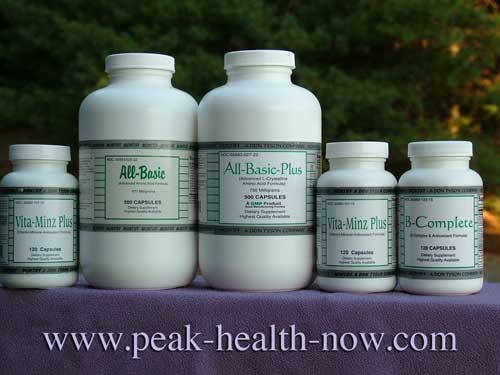 PHOTO ABOVE: Montiff - 50 years of rare integrity and excellence! (For greatest benefit, buy from a distributor who gets the freshest formulas direct from Montiff).
Here's how it began:
In response to a reader's question, I just did some very thorough sleuthing work investigating a product and the company that makes it.
The search to find a substantive answer to 'What do you think of product X?' and to write out helpful replies to half-dozen questions took me over an hour!
I went to seven websites, including the company website, looking high and low to try and find an ingredient list for the product so I could begin to evaluate its quality. None to be found - NONE! 
ALSO - BIG red flag - could not on any of the websites, find the name of ANY person associated with this company.
The company info represented it as a legitimate scientific research organization producing high-end supplements. HOWEVER, their page on 'research' contains a lot of official sounding 'scientific' verbiage that when you read through it is vague and senseless. No site except company website recognizing its (bogus) status as a research group - Red Flag! 
After another few exhaustive searches, using indirect means by typing in company address and looking at info on Spokeo, LinkedIn and a few other such, I found the name of the company owner - actually on Trademarkia. I also found that the other names associated with this company were all same last name. 
The company owner had created 10 companies to sell same product - all in existence for only ONE year! Hmmm…something smells fishy here.
Not only that, but the company trademarks which had been in initial stages of creation had all been abandoned and no record of 'first use,' or other utilization of the proposed trademark (needed to complete process of trademark creation).
**I FINALLY managed to find specific address info (not on the company website!). When I google mapped it, found the 'research organization' location to be a very wealthy residential neighborhood.** 
The 'professor' who was named as chief researcher could not be found associated with any institution of learning or as a recipient of any kind of scholarly credentials.
Never found list of specific ingredients - just vague description of 'crystalline amino acids in ideal proportions.' A list of Amino Acids purportedly included (but no definitive statement that they actually are) was accompanied by info on benefits.
Same formula for EVERYONE?? Don't think so! Individuals have varying needs for more or less of any amino acid. (Try giving significant amount of Tryptophan to a person on SSRI (selective serotonin reuptake inhibitor) and you could land them in the ER)! 
The company seems to sell versions of the product meant for a variety of purposes - sports nutrition, disease and injury recovery - but since no indication of specific ingredients appears anywhere - maybe the same formula is in all the different formulas?? OY! (Excuse me, this kind of chicanery makes my blood boil)!
Another Nutritional Supplement Product Question...
This same reader then asked me about a second product - a brand of Chlorella HIGHLY recommended by a naturopath she knows. 
Upon investigation, I found this Chlorella is grown INDOORS - sunlight is absolutely needed for you to get the benefits Chlorella is known for!! That info is on my pages on what to look for in a quality Chlorella. 
I don't know if my reader took the time to read through the info it took me so long to write and build into a page. The Chlorella brand in question mentions it is produced in indoor pools, among a lot of other info, so I understand how my reader could have overlooked it.
The Chlorella brand in question is advertised as being made for a company that is EXTREMELY concerned with providing the best quality. Apparently the owner needs to get  an education.
More time, more emails. Nearly 2 hours!
I have done this many times - spent LOTS of time investigating product quality of various brands - many of which I never heard of in my 40+ years of involvement with the supplement industry.
SO - I am happy to evaluate any product for you - if you want to employ my investigative skills and time. Your nutritional supplement product investigation is done through email.
Your Nutritional Supplement Product Investigation:
What You Get
---
Ellen Landauer is an expert with over 40 years in-depth study and experience of the safe and effective use of nutritional supplements, botanical extracts and detoxification methods.
She is Certified as an Advanced Practitioner of Structural Integration body therapy developed by Dr. Ida P. Rolf - also known as Rolfing. This hands-on therapy is the deepest, most comprehensive body alignment therapy. 
---
Ellen Landauer is also a  PUBLISHED AUTHOR!
---
To learn more about Ellen Landauer, see her detailed bio HERE

---
The Food and Drug Administration has not evaluated any of the statements on this website. Products offered on this website are not intended to diagnose, treat, cure, or prevent any disease. The information presented on this site is provided for informational purposes only; it is not meant to be a substitute for medical advice or diagnosis provided by your physician or other medical professional. If you have any health problem, please consult with a physician or health care provider before using any natural products. Peak Health Now and/or its product suppliers assume no liability for any injury, illness or adverse affects caused by the misuse and/or use of the information or products presented on this website.

© 2008 - 2022 ™Peak Health Now.com. All rights reserved. 
Throughout this website, statements are made pertaining to the properties and/or functions of food and/or nutritional products. These statements have not been evaluated by the FDA and these materials and products are not intended to diagnose, treat, cure or prevent any disease. For all health and medical questions, please consult with your doctor. By viewing this site, you are stating that you agree with this disclaimer.