The safest, most effective therapies for optimal health!

---
by Ellen Landauer
Multi Vitamin Mineral and Amino Acid Combo
FULL-SPECTRUM NUTRITIONAL SUPPORT!
This multi vitamin mineral and amino acid combo is made by one of the few absolute best companies. Don Tyson, company founder and president also develops all product formulations. He is the top international expert on amino acid therapy.
Mr. Tyson has a 45 year background in Medical Technology and Research and instructs medical doctors in nutritional protocols.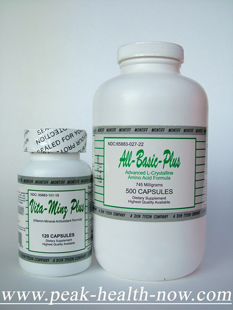 1 month supply: 1 bottle Vita-Minz Plus, 120 capsules / 2 bottles All-Basic Plus 745 mg, 100 capsules per bottle
---
2 month supply: 2 bottles Vita-Minz Plus 120 capsules per bottle / 4 bottles All-Basic Plus 745 mg, 100 capsules per bottle
3 month supply: 3 bottles Vita-Minz Plus 120 capsules per bottle / 1 bottle All-Basic Plus 745 mg, 500 capsules

---
This multi vitamin mineral and amino acid combo are great companion products, providing a solid, balanced foundation for your supplement program!

Medicardium EDTA Chelation Suppositories
IMPORTANT: To avoid wasting your money, make sure the supplements you by are fresh and potent! (new window)
This Multi Vitamin Mineral and Amino Acid combo has a wide variety of nutritional support roles: 
1 - As a chelation support supplement, it helps to maintain electrolyte balance during heavy metal detox. 
2 - The Vita-Minz Plus provides vitamins such as a full complement of B-Vitamins to support your nervous system. 
3 - The Amino Acids require NO energy or processing by your body in order to assimilate. This helps reverse the catabolic cycle of tissue breakdown that happens in the body as a result of stress and ill health. All-Basic-Plus helps repair tissue and prevent further tissue breakdown.
From convalescence to optimizing health, this Multi Vitamin Mineral and Amino Acid combination provides an excellent foundation.
Montiff brand advanced nutraceuticals are one of a very few select brands I use in my practice, as well as benefit from personally.
---
Vita-Minz Plus:
Montiff's Multi Extraordinaire!
INGREDIENTS PER ONE CAPSULE
IMPORTANT NOTE: Potency listings on many products are misleading because in the fine print, the amounts are for MORE than one capsule - often 3, 4 or even 6 capsules!
Each SINGLE capsule of Vita-Minz Plus contains the following: 
Vitamins:
Vitamin A (Beta Carotene) 2000 IU, Vitamin A (Retinyl Palmitate) 1000 IU, Vitamin B-1 (Thiamine HCL) 10 mg., Vitamin B-2 (Riboflavin 5'Phosphate) 10 mg., Niacin 3 mg., Niacinamide 5 mg., Niaciniamide Ascorbate 2 mg., Vitamin B-6 (Pyridoxal 5'Phosphate) 10 mg., Bitamin B-6 (Pyridoxine HCL) 2 mg., Vitamin B-12 80 mcg., Folic Acid 200 mcg., Biotin 160 mcg., Vitamin C (Ascorbic acid) 30 mg., Vitamin C (Ascorbyl Palmitate) 10 mg., Vitamin D-3 80 IU, Vitamin E (d'Alpha Tocopheryl Succinate) 25 IU, Vitamin E (d'Alpha Tocopheryl Acetate) 80 IU, Vitamin E (Natural Vitamin E) 10 IU, Vitamin K 20 mcg.
Minerals:
Boron 5 mg., Calcium Pantothenate 80 mg., Calcium (Citrate) 20 mg., Calcium (Dicalcium Phosphate) 20 mg., Chromium Piccolinate 30 mcg., Copper 0.3 mcg., Iodine (Potassium Iodide) 40 mcg., Iron (Citrate) 3 mg., Magnesium (Oxide) 55 mg., Manganese Ascorbate 0.5 mg., Molybdenum Ascorbate 19 mcg., Potassium Citrate 24 mcg., Selenium (Proteinate) 20 mcg., Silicon (Silica) 3 mg., Zinc (Ascorbate) 5 mg.
Lipotrophic (fat emulsifying) Factors:
Inositol (Rice Extract) 12 mg., Choline 20 mg.
Antioxidant Blend with Amino Acids:
Quercetin 5 mg., Alpha Lipoic Acid 15 mg., Lutein 1 mg., Lycopene 1 mg., Grape Seed extract 10 mg., Pine Bark extract 10 mg., Gingko Biloba 15 mg., Bilberry Extract 8 mg., Green Tea extract 3 mg., Taurine 10 mg., Gamma Oryzanol 10 mg., Paba (Para-Amino Benzoic Acid) 20 mg.
Montiff all-Basic Plus:
Full Spectrum Amino Acids
With Tryptophan
All-Basic Plus 745 mg per capsule
NOTE: Montiff amino acids are USP Pharmaceutical grade, crystalline singular L-form amino acids that require absolutely NO digestion. 
They are easily absorbed with absolutely NO effort by the body - so even people with very compromised digestive capacity will benefit.
All Montiff amino acids are HYPOALLERGENIC! They are so pure that they contain NO food protein fragments or animal by-products which can cause allergic reactions in sensitive individuals.
**These forms of amino acids are also entirely acceptable to vegetarians.**
All-Basic Plus Ingredients - 745 mg total proprietary blend per capsule: L-LysineHCI, L-Alanine, L-Leucine, L-Isoleucine, L-Tryptophan, L-Threonine, L-Glutamine, L-Arginine, L-Methionine, L-Histidine, L-Tyrosine, L-Valine, L-Aspartic Acid, L-Cystine, L-Phenylalanine, Glycine, L-Glutamic Acid, L-Serine, Taurine.
Free of Starch, Corn, Milk, Wheat, Yeast, Sugar, Eggs, Salt, Artificial Colors, Binders, Flavors, Preservatives or Fish derivatives. Free of animal, milk or soy products. Capsule: gelatin and minute amount of Microcrystalline cellulose and magnesium stearate.
All-Basic Plus is Recommended for:
Periods of ILLNESS, INJURY AND STRESS when additional amino acids are required by the body for tissue and cell growth and repair. 
Helping to stimulate the immune system.
Assisting in reversing negative nitrogen balance. 
Prior to and after surgical procedures.
Providing a balanced nutritional program, especially for restricted food programs including food allergies. 
General health maintenance.
Best Detox Program to Accompany Your Multi Vitamin Mineral and Amino Acid Supplements

What is the Real Truth About Discount Supplements?
---
Ellen Landauer is an expert with over 40 years in-depth study and experience of the safe and effective use of nutritional supplements, botanical extracts and detoxification methods.
She is Certified as an Advanced Practitioner of Structural Integration body therapy developed by Dr. Ida P. Rolf - also known as Rolfing. This hands-on therapy is the deepest, most comprehensive body alignment therapy. 
---
Ellen Landauer is also a NEWLY PUBLISHED AUTHOR!
---
To learn more about Ellen Landauer, see her detailed bio HERE

---
The Food and Drug Administration has not evaluated any of the statements on this website. Products offered on this website are not intended to diagnose, treat, cure, or prevent any disease. The information presented on this site is provided for informational purposes only; it is not meant to be a substitute for medical advice or diagnosis provided by your physician or other medical professional. If you have any health problem, please consult with a physician or health care provider before using any natural products. Peak Health Now and/or its product suppliers assume no liability for any injury, illness or adverse affects caused by the misuse and/or use of the information or products presented on this website.

© 2008 - 2022 ™Peak Health Now.com. All rights reserved. 
Throughout this website, statements are made pertaining to the properties and/or functions of food and/or nutritional products. These statements have not been evaluated by the FDA and these materials and products are not intended to diagnose, treat, cure or prevent any disease. For all health and medical questions, please consult with your doctor. By viewing this site, you are stating that you agree with this disclaimer.