The safest, most effective therapies for optimal health!

---
by Ellen Landauer
Montiff Gluca-Balance:
Highly Effective Blood Sugar Balance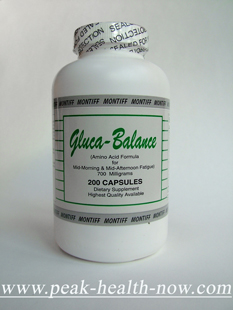 Montiff Gluca-Balance is a proprietary glycogenic amino acid blend created by the world's leading expert on amino acids.
** Gluca-Balance provides a proper balance of the necessary amino acids to stimulate glycogenolysis, gluconeogenesis and help support the liver, brain and musculature.**
NOTE: Montiff amino acids are USP Pharmaceutical grade, crystalline singular L-form amino acids that require absolutely NO digestion. They are easily absorbed with absolutely NO effort by the body - so even people with very compromised digestive capacity will benefit.
All Montiff amino acids are HYPOALLERGENIC! They are so pure that they contain NO food protein fragments or animal by-products which can cause allergic reactions in sensitive individuals.
These forms of amino acids are also entirely acceptable to vegetarians.
---
Gluca-Balance Ingredients
700 mg total proprietary blend per capsule: L-Alanine, L-Lysine HCL, L-Leucine, Glycine, L-Valine, L-Isoleucine, L-Threonine, L-Glutamine, L-Arginine HCL, L-Histidine, L-Phenylalanine, L-Tyrosine, L-Methionine, L-Proline, plus precursor Ornithine-a-Ketoglutarate and the Di-peptides L-Alanyl-L-Glutamine and L-Glycyl-L-Glutamine.
---
What Are Glycogenic Amino Acids?
These are the amino acids that can be converted by the body into glucose to produce energy. The brain requires 125-150g or 75% of the available glucose in the body, for its energy source, to maintain normal brain metabolism.
While many amino acids can be converted into glucose, Alanine and Glutamine are the primary glycogenic amino acids. Because amino acids are converted into glucose at different rates, a mixture of glycogenic amino acids permits the blood glucose levels to maintain over a longer period of time.
Gluconeogenesis is the process of converting amino acids, lactate and glycerol into glucose for the brain. Mainly this occurs in the liver, although some gluconeogenesis also takes place in the kidneys.
---
What is Hypoglycemia?
This is a biochemical condition in which individuals have been known to have low plasma glucose levels of only 50 mg./dl. Hypoglycemics, who are sensitive to carbohydrates, generally exhibit symptoms such are lethargy, hunger, tachycardia and sweating, 2-5 hours after a meal.
Severe and chronic hypoglycemics may experience headaches, blurred vision, confusion and emotional or bizarre behavior. Since hypoglycemics have low blood sugar levels, Gluca-Balance glycogenic amino acid formula is recommended to help increase and regulate their blood glucose levels.
---
Gluca-Balance is Recommended for:
RECOMMENDED FOR:
• Individuals with hypoglycemia.
• Stabilizing low blood glucose levels and helping to eliminate mid morning and mid afternoon fatigue.
• Aids in mental alertness and memory function.
• May be helpful in alcoholic management in conjunction with additional L-Glutamine.
• Helping to eliminate the craving for sweets.
• For those whose plasma or urine profiles indicate an imbalance of these amino acids.
---
Ellen Landauer is an expert with over 40 years in-depth study and experience of the safe and effective use of nutritional supplements, botanical extracts and detoxification methods.
She is Certified as an Advanced Practitioner of Structural Integration body therapy developed by Dr. Ida P. Rolf - also known as Rolfing. This hands-on therapy is the deepest, most comprehensive body alignment therapy. 
---
Ellen Landauer is also a  PUBLISHED AUTHOR!
---
To learn more about Ellen Landauer, see her detailed bio HERE

---
The Food and Drug Administration has not evaluated any of the statements on this website. Products offered on this website are not intended to diagnose, treat, cure, or prevent any disease. The information presented on this site is provided for informational purposes only; it is not meant to be a substitute for medical advice or diagnosis provided by your physician or other medical professional. If you have any health problem, please consult with a physician or health care provider before using any natural products. Peak Health Now and/or its product suppliers assume no liability for any injury, illness or adverse affects caused by the misuse and/or use of the information or products presented on this website.

© 2008 - 2022 ™Peak Health Now.com. All rights reserved. 
Throughout this website, statements are made pertaining to the properties and/or functions of food and/or nutritional products. These statements have not been evaluated by the FDA and these materials and products are not intended to diagnose, treat, cure or prevent any disease. For all health and medical questions, please consult with your doctor. By viewing this site, you are stating that you agree with this disclaimer.