The safest, most effective therapies for optimal health!

---
by Ellen Landauer
About This Site
To tell you about this site, there are three primary cornerstones of my philosophy: passion, knowledge and INTEGRITY.
I will begin with the last of those...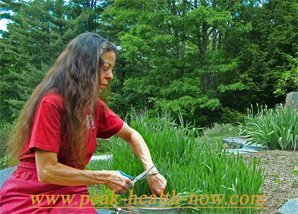 PHOTO ABOVE: Harvesting outdoors-grown wheatgrass.
---
Recently, I was saying to a very close friend of mine... 'If I concentrated on exposing ONE MILLIONTH of the alternative health scams, misleading and misguided information, nutritional supplement scams and dangerous products out there...

I would have no time to do ANYTHING ELSE!
Thinking about this site and how to plan it, I ended up feeling that I could help you the most by inspiring you to 'go for the Gold' - Peak Health!
It was a tough decision to make, because few things get my goat more than LIES!
Especially irksome are lies used to deceive people into spending hard earned money on poor to mediocre natural health products!
Deciding to focus on Peak Health Now was easy in another way: helping you be 'independently healthy' is my main passion! This is healthier for me than the stress of investigating scams.
Staying true to my mission evokes joy and inspiration that gives me the endurance for the diligent research, experimentation and writing necessary for the building of this site.
Another thing that fuels my enthusiasm to think about this site and how I can make it better is - KNOWLEDGE!
I LOVE to learn! I want to know how and why everything I recommend works. Then to turn around and write about it in a way that's easy for you to understand.
---
Relentless Research to Find You Products that REALLY Work!
Much of my time is spent searching for those rare nutritional products that actually contain what is stated on the label and do what they say they are intended to do. I thoroughly research many and do a personal trial of the few I select as having possibilities.
One thing you'll notice about this site is that I have only a small selection of products on my pages.
Why..?
Because in my 30 years as an alternative health professional and involvement with the nutritional supplement industry, I discovered a compelling fact:
It would be VERY generous to say that 1% of all nutritional supplements and detox methods out there are as excellent and powerful as you WANT them to be!
A product has to 'knock my socks off' and leave my jaw hanging open with amazement before I bother to take the time to promote it.
Further, I have to see it knock a few other peoples' socks off before I am really going to take it seriously.
---
About This Site: Passion!
This site is a labor of love. I enjoy sharing with you the best of what I have learned and experienced.
I am a 'show me' kind of person...
That means I have researched, investigated and DONE what I speak of. In the rare instances I write about something I haven't personally experienced, I say so.
You can be certain that every page of this site is informed by my own 'hands-on' experience.





---
Ellen Landauer is an expert with over 40 years in-depth study and experience of the safe and effective use of nutritional supplements, botanical extracts and detoxification methods.
She is Certified as an Advanced Practitioner of Structural Integration body therapy developed by Dr. Ida P. Rolf - also known as Rolfing. This hands-on therapy is the deepest, most comprehensive body alignment therapy. 
---
Ellen Landauer is also a NEWLY PUBLISHED AUTHOR!
---
To learn more about Ellen Landauer, see her detailed bio HERE

---
The Food and Drug Administration has not evaluated any of the statements on this website. Products offered on this website are not intended to diagnose, treat, cure, or prevent any disease. The information presented on this site is provided for informational purposes only; it is not meant to be a substitute for medical advice or diagnosis provided by your physician or other medical professional. If you have any health problem, please consult with a physician or health care provider before using any natural products. Peak Health Now and/or its product suppliers assume no liability for any injury, illness or adverse affects caused by the misuse and/or use of the information or products presented on this website.

© 2008 - 2022 ™Peak Health Now.com. All rights reserved. 
Throughout this website, statements are made pertaining to the properties and/or functions of food and/or nutritional products. These statements have not been evaluated by the FDA and these materials and products are not intended to diagnose, treat, cure or prevent any disease. For all health and medical questions, please consult with your doctor. By viewing this site, you are stating that you agree with this disclaimer.