A Very Special Testimonial
Ellen Landauer grew up and thrived on a wholesome diet and vitamin supplements as recommended at the time by Dr. Carleton Fredericks. She also was involved in many outdoor activities: biking, skating, hiking, camping, etc.
I know this because I am her mother...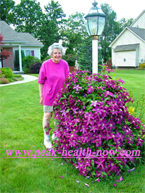 Ever since Ellen began studying various health care protocols over 30 years ago, she has been MY health mentor.
I was her willing subject while she learned Shiatsu, Swedish Massage, Rolfing and nutrition (to mention just a few of her many in-depth studies).
Now in my (very) senior years, because I follow her recommendations for my diet, nutritional supplements and exercise, I feel very well. At my last annual check-up, my doctor marveled that I look 20 years younger than my chronological age.