Candida Yeast Probiotics Question:
What is the BEST Way to Get Rid of Fungal Overgrowth?
Do you have Candida Yeast questions that remain unanswered - about how to get rid of this and other kinds of fungal infections and overgrowth? If so, you are among many of my readers who have such concerns.
My own protracted suffering from fungal issues with seemingly no solution that worked, and finally getting rid of them gives me the knowledge of what works and what doesn't.
My Reader's Candida Yeast Question:
 Hello. I'm suffering from candida yeast.
I use holy tea, digestive enzymes,Dr.ohira probiotics,critical care 50billion probiotics,phsyllium,I'm thinking about your probiotics.I'd love your advise oh I use inulation prebiotics.

Answer:
Hi, and thanks for your Candida Yeast question!
First, I will comment on the products:
What are the BEST Probiotics to get rid of fungal infections?
Since you are taking 3 kinds of probiotics - how can you know which one is working and which may not? Could be confusing for the body, and some strains of probiotics will destroy others. DrOhira's probiotic is based on the organism Enterococcus faecalis - not a good idea at all - this organism can cause serious health problems; too long to go into here - I should write a page on it. I reviewed this product years ago and nixed it because of this.
The ONLY probiotic I ever recommend is Natren (photo above).
You may want to review this page of Natren Probiotics reviews (new window) from clients of mine who use them.
Also, click on Natren graphic above for the story of my own experience with these fabulous probiotics (new window).
For Special Pricing on Natren Probiotics, Click Here
Digestive Enzymes:
 Most digestive enzymes don't do much - product quality is rare in this as many other kinds of supplements. 
Also...
...The KIND of digestive enzymes you may need depend on your Metabolic Type and Mineral profile!
Purgative Teas are NOT the Best to Get Rid of Candida Yeast!
As to the Holy Tea (brand name excluded for a number of reasons) that you are taking, it is a purgative (irritant) and not good to take on a regular basis.
You might be very interested to know that healthy bile flow is critical for balancing pH, destroying candida yeast, other fungal infections and harmful microorganisms...
...AND that bile stimulates healthy peristalsis and elimination.
ALSO, healthy bile flow is an important way that our bodies get rid of toxins!
Here is my page on healthy bile flow and its role in getting rid of parasites and candida. (new window)
As to the ingredients in the Holy Tea:
Holy Thistle and Blessed Thistle are names sometimes given to the same plant (holy thistle is called both names). Both are very cheaply obtained, since it is the common thistle weed that grows prolifically and people are happy to get rid of since it is lined with sharp needle like spikes. They don't indicate what part of the plant they use.
Thistle is an irritant (which is how it works as a purgative) and for various reasons not advised to be taken long term. It is contraindicated in people with stomach ulcers, which gives you a good idea on its irritant properties.
Marshmallow is a demulcent herb that is also a prolific weed; also very cheap to obtain. Malva sylvestris is a form of the same weed; so there is some duplication in the formula; people like more ingredients, hence the duplication; but both marshmallow and malva are essentially the same.
Persimmon leaf is astringent; said to be good for hemorrhoids; a high-quality rutin supplement is far more effective.
NO purgative herbs are advisable on a regular basis as they can cause dependence. They stimulate peristalsis by irritation, and therefore can disrupt and harm the fine-tuned nerves in the digestive tract. The response of these nerves is necessary to stimulate peristalsis for elimination. Damage to nerves as a result of constant exposure to herbal irritant compounds diminishes their capacity to respond to a stimulus. They lose the ability to initiate the peristalsis (muscular contractions of the intestinal walls that move the solids along). 
Therefore, long term use of purgative herbs worsens slow elimination.
Candida Yeast and Toxic Metal Compounds
As to the candida yeast...
...where there is a fungal problem, there is a toxic metals problem; candida yeast are the organism in us that can hold onto more toxic metals, esp. mercury, than any other organism in us can do. 
Our bodies grow the yeast in an attempt to survive the heavy metals!
Metal toxins can kill us fast; yeast toxins kill slowly - so the body grows the yeast.
The root of the yeast problem is commonly toxic metals, so one must embark on a balanced program to detox from both at once.
If you were to kill off most of the yeast in your body, the mercury etc. they are holding onto would be released and could make you very sick - this is what they call 'die-off.'
So you have to address both at once.
Here is an in-depth discussion of Candida Yeast and heavy metals, (new window) and options that work for me and my clients.
The Relationship Between Mineral Balance and Candida Yeast Problems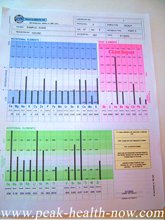 The quantity and balance of nutrient metals such as magnesium and calcium in our bodies is critically important as a supporting solution of heavy metals and candida yeast problems. 
Did you know, for example, that the copper/zinc ratio can affect fungal issues? Too much copper in relation to zinc can be a root cause of the tendency for yeast overgrowth!
You might want to check out the Trace Elements Hair Analysis test (new window) as an option to determine what is best for you as an individual.
So there it is: my 'no-holds-barred' answer to your question; hope you find this helpful!
Sincerely,
Ellen Landauer



Excellent Way to Support Healthy Bile Flow



For Special Pricing on Natren Probiotics, Trace Elements Hair Analysis, Detoxamin EDTA Chelation Suppositories, the best Chlorella and other excellent products, please fill out the form below.
You will receive an email with page URL and password to enter the Private Peak Health Store.
In order to provide better pricing, I have arranged with the various companies to keep them on a password-protected page.
**If you have ANY trouble accessing the Private Store, or placing your order, please call 413-339-8527 - I will be happy to assist you in placing your order.
I wish you the very Best of Health!
Sincerely,
Ellen Landauer
Disclaimer: Any and all articles, answers and comments on this site are for general information, and are not intended to be a substitute for your informed professional medical or other professional advice. You are responsible for the results or consequences of your choices based on general information presented here. Information is used at your own risk. The owner expressly disclaims liability for any product, manufacturer, distributor, service, or service provider or any opinion expressed in answers or comments. Please consult with your doctor. By viewing this site, you are stating that you agree with this disclaimer.