Coffee Enema Recipe With Glutathione:
An Ultimate Therapeutic Experience!
A coffee enema recipe request from one of my customers:
"I started doing colon cleansing and coffee enemas and very happy with the results so far. I ordered glutathion as I realize its benefits, but I didn't see any discussion on how many mg should be used with coffee enema. Could you give a suggestion of what is the range?
I thank you for taking the time; I really appreciate it."
My Own Coffee Enema Recipe With Glutathione
Answer: "This coffee enema recipe is the one I use, and intended only for educational purposes.
I started first couple times with 1/4 teaspoon or less added to coffee that is cooled down to just warm (hot may destroy some of the Glutathione benefits).
Later, can add 1/2 teaspoon or more. Clients of mine have added as much as 1 1/4 teaspoons to one coffee enema and find it delightful, as do I.
You might want to cycle on and off it - doing a few coffee enemas without, then adding it again. Glutathione is a powerful anti-oxidant and helps flush toxins from the liver.
NOTE: If toxicity symptoms worsen it is good to cut down because it means toxins are being released faster than the body can easily eliminate them.
In such an instance, I cut my detox protocol in half until any discomfort subsides."
**For the ultimate smooth and therapeutic experience, 'go for the Gold,' a delicately roasted blend of the highest quality expressly made for enemas.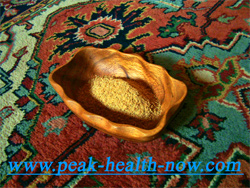 **Always buy the ground beans rather than whole; the whole beans are too hard for a regular coffee grinder because they haven't been roasted as much as all other kinds of coffee...
Readers Share Their Coffee Enema Experiences