The Best Glutathione
The best Glutathione is made by Montiff, Inc.
It is an antioxidant, free-radical scavenger extraordinaire!

How to be sure you are buying the BEST Glutathione - Fresh, Pure and POTENT! (new window)
Montiff Inc. adheres to a standard of excellence second to none. Almost ALL other Glutathione supplements contain only a small fraction of the potency listed on the label.
However, not even all Montiff supplements are equal! Click the link above to find out why...


Montiff Pure L-Glutathione has undergone a significant price reduction! It is the same exceptional quality product as always. I am passing the savings on to you.
Originally, the suggested retail price was $149.00 and my (discounted) price was $137.00.
NOW, your price is only $119.25 plus shipping!
**NOTE: Where you see this product selling for more, (or a lot less), you can be assured it is older - not as fresh as what I provide you through my professional supplier.**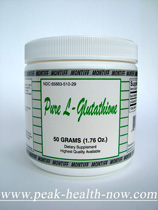 Montiff Pure L-Glutathione: 1 container
_________________________________________________________________
IMPORTANT: All orders outside the US are shipped Express Mail International and require extra shipping/handling fee.
With Priority Express Mail shipping you get tracking, much faster service and packages get through customs better.
CANADA ONLY:
OVERSEAS:
_________________________________________________________________
**Please click on graphic for complete product info.**