Disclaimer: Click to read.
---
Vas-Cu-Care

Vas-Cu-Care is MUCH more effective than just Arginine alone!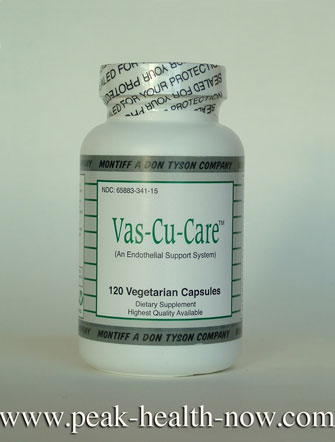 This formula contains just the right proportions of L-Arginine HCL, L-Citrulline and full-spectrum synergistic nutrients including Alpha Lipoic Acid and pycnogenol for full-spectrum nutrient support!
This fabulous formula is great for both men AND women! 
It is one of my hands-down favorite formulas - I take it every day.
Vas-cu-Care Ingredients
Supplement Facts: Serving Size: 4 capsules / Servings per container: 30
Amount Per Serving: Vitamin C (ascorbic acid) 240 mg, Vitamin E (d-a tocopheryl succinate) 300 IU, Vitamin B6 (pyridoxal 5 phosphate) 40 mg, Folic acid 800 mcg, Vitamin B12 (cyanocobalamin) 400 mcg, Magnesium (magnesium oxide) 12 mg, Selenium (L-selenomethionine) 60 mcg, Chromium (chromium polynicotinate) 40 mcg, Potassium (potassium aspartate) 20 mg
Proprietary Blend 2068 mg: (L-arginine HCl, L-citruline, L-carnitine fumarate, taurine, quercetin), Pine Bark extract 40 mg, Alpha lipoic acid 20 mg, Blueberry fruit extract 20 mg
Other Ingredients: Cellulose, magnesium stearate, silicon dioxide.
---
Buy Vas-cu-Care
NOTE: Click on drop-down menu above 'Add to Cart' button to choose how many bottles you want.
---
Vas-cu-Care benefits increase when combined with synergistic products:
PHOTO ABOVE: Pycnogenol Extract powder 100% pure for better circulation.
---
PHOTO ABOVE: EDTA just doesn't get any better than this!
Medicardium EDTA Chelation suppositories for circulatory excellence!
CLICK HERE for Peak Nitric Oxide Packages
CLICK HERE for Vas-cu-Care Packages for MEN