The safest, most effective therapies for optimal health!

---
by Ellen Landauer
Paleo Diet Recipes:




Coconut Balls
While paleo diet recipes strictly speaking would be comprised of grass fed meats, eggs, maybe a little dairy and some dark leafy greens and a bit of fruit - sometimes we would like something
a little more festive.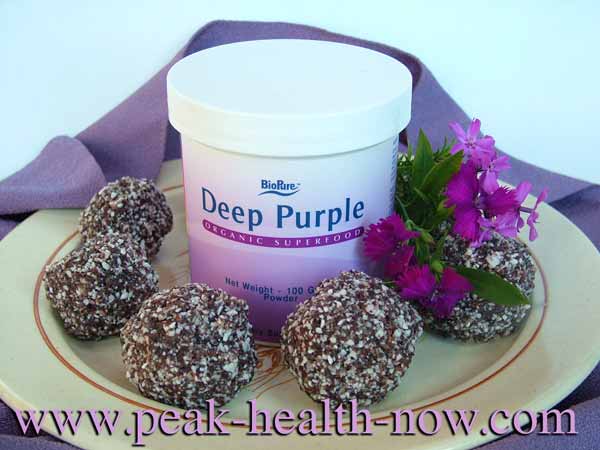 With no added sweetener whatsoever, these Coconut Balls will have you wondering why you ever wanted candy.
This sweet, tempting treat will satisfy all but the most jaded palate.
Compliments to the chef (my much-adored husband).
              Coconut Ball Recipe

2 cups coconut flakes (ideal) or shredded coconut**
1 cup black currants
4 tablespoons coconut oil (warmed to liquid form)
3 or 4 scoops 'Deep Purple' organic super fruit powder
**NOTE: Coconut flakes (larger pieces of dried coconut) are much preferred over shredded coconut. The reason: shredded coconut has had the coconut oil (the best part) removed; the flakes still contain the coconut oil and are healthier AND more delicious.
Paleo diet recipes can be fun! Do experiment and try altering the suggested proportions of ingredients to suit your taste.
For example, increasing the proportion of coconut flakes gives you more healthy fat, more fiber and a treat with lower glycemic index. Note that currants are actually lower glycemic than you might think for a sweet dried fruit, and are much lower glycemic than related fruits such as raisins.
The firmness or softness and taste quality of your finished masterpiece will depend on ingredient proportions.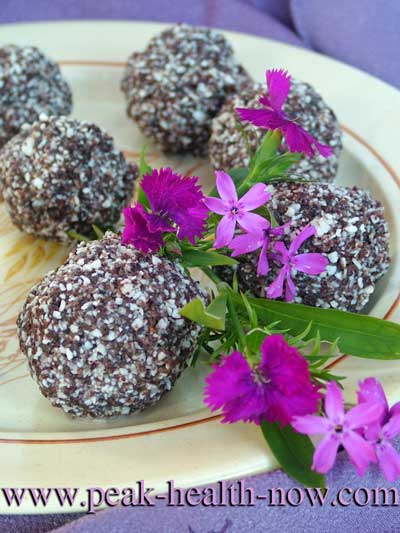 INSTRUCTIONS:
1 - Put all ingredients in Cuisinart and mix until they lump together and also begin to liquefy.
2 - Spoon mixture out, shape spoonfuls into balls and place on plate.
3 - Cool in refrigerator so they harden and hold their shape.
Enjoy - and - try to leave some for later and/or for someone else!
---
Ellen Landauer is an expert with over 40 years in-depth study and experience of the safe and effective use of nutritional supplements, botanical extracts and detoxification methods.
She is Certified as an Advanced Practitioner of Structural Integration body therapy developed by Dr. Ida P. Rolf - also known as Rolfing. This hands-on therapy is the deepest, most comprehensive body alignment therapy. 
---
Ellen Landauer is also a NEWLY PUBLISHED AUTHOR!
---
To learn more about Ellen Landauer, see her detailed bio HERE

---
© 2008 - 2022 ™Peak Health Now.com. All rights reserved. 
Throughout this website, statements are made pertaining to the properties and/or functions of food and/or nutritional products. These statements have not been evaluated by the FDA and these materials and products are not intended to diagnose, treat, cure or prevent any disease. For all health and medical questions, please consult with your doctor. By viewing this site, you are stating that you agree with this disclaimer.