Disclaimer: Click to read.
---
Mucuna Pruriens L-Dopa Testosterone Booster
Mucuna Pruriens L-Dopa Testosterone Booster increases energy, libido, drive, optimism and has many other benefits.
Mucuna Pruriens L-Dopa Testosterone Booster initially interested me because men who want to boost testosterone naturally, are among my clients.
Women clients voicing concerns about losing interest in sex have asked me about female libido enhancement. A small, but essential amount of Testosterone is fuel for the female libido as well!
Personal interest has also fueled my research, as it does with most of my products ;-)
Both men and women need testosterone. In the right amount, this wonderful hormone has a multitude of benefits:
Mucuna Pruriens L-Dopa is the precursor to Dopamine, a neurotransmitter.
More Dopamine means more Testosterone!
Note: Some Mucuna bean powders contain VERY LITTLE Dopamine precursor. To obtain Mucuna Pruriens L-Dopa Testosterone benefits, only the BEST quality powder will do!
Because Dopamine prevents prolactin from destroying Testosterone, Mucuna Pruriens in sufficient amounts helps boost Testosterone. Boosting Testosterone naturally increases anabolic capacity, strength and endurance. We have more desire and ambition to challenge our limits. It is easier to build muscle.
Heart and circulatory health, energy, mental clarity, libido and sexual responsiveness, youthful skin, achieving and maintaining athletic levels of muscle mass, optimism and enthusiasm for life all depend on healthy Testosterone levels.
Here is a Mucuna Pruriens L-Dopa Testosterone Booster recipe which has a 'secret' ingredient that enhances your absorption of L-Dopa and other valuable compounds from the raw bean powder.
Mucuna Pruriens L-Dopa Testosterone Booster:
Fabulous Recipe to Increase Strength
One day I had an unexpected breakthrough (new window) in my weight training program. I had two Mucuna Pruriens drinks with an added 'secret' ingredient, as I explain in the recipe below...
(I hadn't yet added the Montiff Super-Sports formula (new window) to my protocol, so this was a good experiment)!
Note:To boost testosterone, you want to assimilate every milligram of the L-Dopa in your Macuna supplement! Adding Enhanced Phospholipid Exchange (new window) potentizes L-Dopa and the other beneficial compounds significantly.
I took the first Mucuna / Phospholipid drink about 40 minutes before my workout, and the second about 15 minutes before my workout.
IMPORTANT: Start slow with 1/4 teaspoon Mucuna Pruriens and 1/8 teaspoon Enhanced Phospholipid Exchange.
Every 2 - 3 days, can add another 1/4 t Mucuna and 1/8 t Phospholipid formula until you are at full dose. If you are a large individual, you may then try going up a bit more: 2 1/2 teaspoons Mucuna Pruriens and 3/4 teaspoon Phospholipid.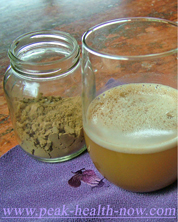 Recipe for one drink:
1 gently rounded teaspoon Mucuna Pruriens powder
1/2 teaspoon Enhanced Phospholipid Exchange
1/16 teaspoon Kal stevia extract powder
6 oz water
Directions: Mix Mucuna Pruriens, stevia powder and a little cool water in a cup or shaker bottle. Pour 2 oz hot (not boiling) water into the cup and mix. Add about 4 oz cool water and the Phospholipid Exchange. Stir (or shake) VERY thoroughly and drink.

Mucuna Pruriens L-Dopa Testosterone Boost Lifts Your Mood!
in Mucuna Pruriens L-Dopa Testosterone boosting power ALSO can provide a host of benefits for your mood...
Typically, men (and women, too) who lack sufficient testosterone tend to suffer more from depression, malaise, anxiety and fatigue. Testosterone is one of the hormones that fuels confidence, enthusiasm and optimism in both men and women.
My personal results...
...Since that first day of that weight lifting breakthrough, I ALSO feel more 'pumped up' emotionally - bold, confident, uplifted and optimistic...
More at ease in all situations, yet more alert. In difficult situations, I have both more equanimity and more decisiveness. I am more flexible, but won't back down when firmness is called for.
Difficult situations don't bother me as much as they used to - it is easier to move more boldly through life.
I attribute these changes to the Mucuna Pruriens / Phospholipid Exchange combo, since that is the only thing I did differently during this time period.
Was my first Mucuna Pruriens / Phospholipid Exchange experience just a fluke?
No...to this day, the best Mucuna Pruriens powder and the Phospholipid Exchange are staple supplements in my program. My workouts continue to be more intense and enjoyable. I also find I am building more muscle mass.
While Mucuna Pruriens L-Dopa Testosterone benefits are well-known to body builders, they are applicable to many, perhaps like you, who simply want to stay healthier and younger...



Mucuna Pruriens L-Dopa Testosterone Booster: A Reliable L-Dopa Precursor is a Better Option!
Important Update on Mucuna Pruriens...
NOTE: Regretfully, it has been two years since I have been able to obtain a Mucuna Pruriens powder as excellent as that which inspired this article.
I personally trialled product from several of the top companies, giving each a good few months worth of use. Sadly, none measured up.
Because I unequivocally refuse to have any product up on my site that does not meet my standards of excellence, Mucuna Pruriens powder is no longer among the products I would recommend to you.
HOWEVER - take heart - there are some very effective ways to optimize Dopamine!
I will soon have the information you need to make informed choices.
Please stay tuned...
Dopamine Precursor With Excellence You Can Rely On
Dopamine Precursor: Better Option for Most People than Mucuna Pruriens!





© 2008 - 2018 ™Peak Health Now.com. All rights reserved. 
Throughout this website, statements are made pertaining to the properties and/or functions of food and/or nutritional products. These statements have not been evaluated by the FDA and these materials and products are not intended to diagnose, treat, cure or prevent any disease. For all health and medical questions, please consult with your doctor. By viewing this site, you are stating that you agree with this disclaimer.