The safest, most effective therapies for optimal health!
---
by Ellen Landauer
Montiff Pure L-Histidine
Montiff Pure L-Histidine, precursor to histamine, supports vasodilation, orgasmic function, neuronal health, tissue healing and more!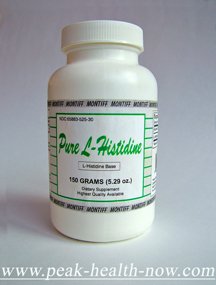 Montiff Pure L-Histidine 150 grams powder
**SORRY, THIS PRODUCT HAS BEEN DISCONTINUED**
For similar nitric oxide effect, please see
Montiff Vas-cu-Care - a customer favorite!
ALSO, consider our Pure Pycnogenol (the ONLY French Maritime Pine Bark Extract from best company in the world)
We also have available Nitric Oxide Delight - our own transdermal lotion which includes generous amounts of Pycnogenol, Chrysin and other active ingredients.
Directions: Take 1 to 3 three times daily a half-hour or more before meals with a full glass of water or fruit or vegetable juice.  Vitamins and minerals are recommended for proper metabolism, especially B-6 and Vitamin C.  Vita-Minz-Plus and B-Complete as well as Ultra C should be taken daily.  For female sexual arousal and orgasms - 1 capsule t.i.d. prior to meals is suggested. 
---
Ellen Landauer is an expert with over 40 years in-depth study and experience of the safe and effective use of nutritional supplements, botanical extracts and detoxification methods.
She is Certified as an Advanced Practitioner of Structural Integration body therapy developed by Dr. Ida P. Rolf - also known as Rolfing. This hands-on therapy is the deepest, most comprehensive body alignment therapy. 
---
Ellen Landauer is also a NEWLY PUBLISHED AUTHOR!
---
To learn more about Ellen Landauer, see her detailed bio HERE

---
© 2008 - 2018 ™Peak Health Now.com. All rights reserved. 
Throughout this website, statements are made pertaining to the properties and/or functions of food and/or nutritional products. These statements have not been evaluated by the FDA and these materials and products are not intended to diagnose, treat, cure or prevent any disease. For all health and medical questions, please consult with your doctor. By viewing this site, you are stating that you agree with this disclaimer.