Disclaimer: Click to read.
---
Importance of Vitamin C
Quality: Buy the Best!
Importance of Vitamin C quality may not be your first consideration when buying an Ascorbic Acid supplement.
After all, there is not much difference between brands, right?
Wrong! Please read my article which details the importance of Vitamin C quality and what to look for to get the best.
I never thought I would include such a common, easily available supplement in the pantheon of excellent products I have handpicked for you.
After all, I was under the impression that all Ascorbic Acid supplements were basically the same.
Until I tried to do a high dose protocol with what I thought was a good brand. Strong-willed though I am, the irritation, gastric distress and spaced-out feeling induced by this product managed to convince me that I was 'just not a "C" person.
Below, for your consideration, is the product that proved me wrong.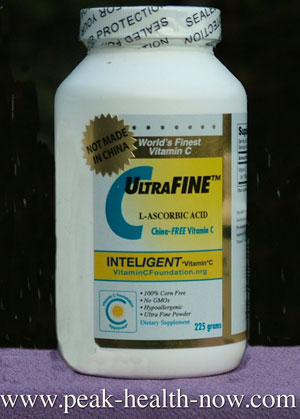 PHOTO ABOVE: UltraFINE L-Ascorbic Acid (China-FREE) 225 gm   $48.95
Circulatory Vitality Packages that Include Ultrafine China-Free C
© 2008 - 2018 ™Peak Health Now.com. All rights reserved. 
Throughout this website, statements are made pertaining to the properties and/or functions of food and/or nutritional products. These statements have not been evaluated by the FDA and these materials and products are not intended to diagnose, treat, cure or prevent any disease. For all health and medical questions, please consult with your doctor. By viewing this site, you are stating that you agree with this disclaimer.