Disclaimer: Please scroll to bottom of page for disclaimer.
---
Glytamins Reviews: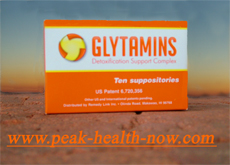 These Glytamins reviews are unsolicited comments from my clients who purchased them on this site.
The ingredients in these liver gallbladder detoxification suppositories are shown by research to reduce bile sludge, liquifying the bile to promote better bile flow. In addition, Glycine and Taurine in this expertly formulated supplement help detoxify us from chemicals such as chlorine as well as our own stress hormones.
The herbs Bupleurum, Peppermint and Chanca Piedra help relax and detoxify the gallbladder so gall stones can more easily pass out. Chanca Piedra has also been shown to help dissolve uric acid crystals. Therefore, it may support kidney health as well.
---
More Glytamins Reviews!
In addition to my client's comments below, more and more of my customers who try the Glytamins are writing to me - unsolicited - with rave reviews!
Some of them agreed to real-name testimonials when I asked if I could share their comment with you.
Lately, more and more people are telling me they have gallstone issues.
One man cancelled his gallbladder surgery two days before contacting me and placing an order for Glytamins. He is overjoyed with the results of only one week's use (a suppository every night).
This is utterly thrilling to me - to hear that my work is making a difference in peoples' lives!
---
Glytamins Review
Note: Ulises originally contacted me a few years after he suffered severe poisoning and digestive infection from eating tainted seafood in a restaurant.
Previously, he had been a robust, athletic and energetic man. The tainted food made him very ill. His digestion had been poor and he had been fatigued and lacking energy ever since. Other supplements he tried just didn't seem to help.
Ulises chose to do a Hair Analysis Test, so we could see what mineral imbalances needed to be addressed.

One month into his Natren probiotics protocol, he decided to try the Glytamins at my suggestion. I felt that along with the probiotics, improved bile flow could help normalize gut pH. This would aid in making the intestinal tract an unwelcome place for any infections and parasites that had been proliferating in there and making him miserable.
Glytamins Review: My Personal Experience (new window)

---
Buy Some Glytamins for You!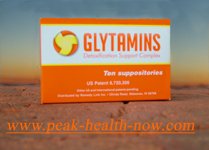 Glytamins: $20.00 Discount per box on larger orders / Free Shipping in Continental US


© 2008 - 2018 ™Peak Health Now.com. All rights reserved. 
Disclaimer: Throughout this entire website, statements are madepertaining to the properties and/or functions of food and/or nutritional products. These statements have not been evaluated by the FDA and these materials and products are not intended to diagnose, treat, cure or prevent any disease.
Any and all articles, answers and comments on this site are for general information, and are not intended to be a substitute for your informed professional medical or other professional advice. 

You are responsible for the results or consequences of your choices based on general information presented here. Information is used at your own risk. 

The owner expressly disclaims liability for any product, manufacturer, distributor, service, or service provider or any opinion expressed in answers or comments. For all health and medical questions, please consult with your doctor. By viewing this site, you are stating that you agree with this disclaimer.