Disclaimer: Click to read.
---
Endosterol Testimonial
Support for Relief of
Menopause Symptoms
This Endosterol testimonial relates my personal experience of a most effective womens' health supplement in suppository form. This highly effective formula is ALSO beneficial for maintaining mens' testosterone levels and prostate health, alleviating symptoms of andropause.
One of the most profound benefits this excellent formula contributed greatly to is that years past menopause, I feel like a young woman! Using the suppositories on a regular basis is one of the keys.
---
Endosterol Testimonial: Uterine Health
A big part of my Endosterol testimonial describes how the excellent phytonutrient blend formula played an important role in getting rid of uterine fibroids.
As a delightful bonus, it also helped restore my uterus to a much more supple, youthful condition!
Because of my excellent self-care program, I never thought I'd have a problem with uterine fibroids or menopausal symptoms. However, all that changed after a doctor mistake in my detox treatment caused severe mercury toxicity symptoms.
Among the many symptoms, hormonal imbalance began to erode my female vitality and beauty. Premature aging of skin, lowered libido and fading femininity seemed to be my fate. VERY distressing, as you can imagine!
In addition, I had mild night sweats and occasional hot flashes. I later discovered that these were due to severe adrenal exhaustion.
It is my firm conviction that hot flashes result more from adrenal fatigue than menopause. You must remember, in some cultures, they don't even have any word for hot flashes!
One day, while taking a mercury detox sauna, I discovered the lump on my uterus. My hands resting on my abdomen, I noticed a hard lump right where the uterus is located. I palpated it, feeling all around it and pressing directly on it.
Because of my intimate familiarity with anatomy through 30 years in structural body therapy (new window), I could discern that the lump was indeed on my uterus.
The other factors that made it easier to feel than in most people are that I am a slender individual AND have had many years of Rolfing therapy. This state of the art structural body therapy balances and differentiates the myofascia (muscle-connective tissue). In addition to improving body balance, tissue quality becomes much more supple than in a person who never had the work.
In subsequent self-exams, I found more than one lump. In addition, the whole uterus seemed swollen and hard - also painful!
Fear of cancer (or at least, of fibroids) arose. As weeks passed, my palpation sessions revealed that the lumps were getting bigger - and more painful. I was determined not to be told I needed surgery or any other allopathic intervention!
Two of my doctors found that the swelling protruded higher than my pubic bone when examining me in a lying down position. They said this is not normal and strongly recommended I go for an ultrasound to 'see what's going on there.'
I refused. I didn't need an ultrasound to 'know what was going on down there.' I had painful lumps on my uterus that could either be fibroids or cancer.
I didn't go for the ultrasound for two reasons; one, I didn't want to be pressured to have surgery or worse; two, I was moving forward with every self-healing option I could find and knew that I would NOT submit to invasive conventional medicine treatments. After the doctor mistake that resulted in so much bodily damage and emotional misery, no way would I risk further damage!
I determined to heal this myself.
*NOTE: This is MY story and I don't recommend anyone else 'try this at home.' Always consult your medical doctor to determine what treatment you should have. This story is for entertainment purposes only ;-)
Endosterol Testimonial
More Welcome Changes
Remember, this Endosterol testimonial in no way promotes this supplement as a fibroids natural cure. I am just relating a sequence of events in my personal experience.
Before trying the Endosterol phytonutrient suppositories, I had already built a firm foundation on which to get the best results. Always remember there are no 'magic cures.' Solid results rest on a solid foundation of self-care!
What therapies are the blocks in the foundation of my menopause symptoms solutions?
Colon cleansing, coffee enemas, (new window) EDTA chelation suppositories (new window) AND (though it should go without saying) a relentlessly healthy lifestyle.
Detoxamin EDTA chelation suppositories (new window) and later, Medicardium (new window) were major players in my very successful mercury detoxification program. Colon cleansing and coffee enemas kept the pathways of elimination moving fast enough to keep up with the tremendous amount of toxins that were being enthusiastically dumped by my body.
---
Endosterol Testimonial: Uterine Health and More!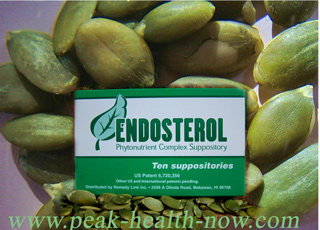 After a year and a half of the above therapies, the results were gratifying. The uterine lumps were gone. The swelling was almost all gone. No pain resulted no matter how much I pressed and palpated the area.
However, I COULD feel my uterus was hard, like a little fist.
I didn't like that.
It was at that moment in time that I decided to try the Endosterol.
I had some discussions with Spencer Feldman, the scientist who developed Endosterol, and owner of the company that produces it. This formula contains beta sitosterol, saw palmetto and pumpkin seed extract, among other fine ingredients.
Mr. Feldman has painstakingly reviewed countless medical studies of the individual ingredients to create his formula. He designed it to counter the hormone imbalances we all are subject to as a result of aging, stress and environmental toxins such as xenoestrogens. Endosterol helps both men and women, reducing the effects of both andropause and menopause.
Endosterol's unique form of delivery - by suppository - places the ingredients directly behind the uterus, just inside the rectum. This also intrigued me, since I already had had a very profound healing using the Medicardium EDTA Chelation suppositories made by the same company.
How effective would this phytonutrient complex suppository be in relieving menopausal symptoms?
---
My Delighted Endosterol Testimonial...
Here are the benefits I personally experienced...
A month or so after beginning the Endosterol protocol, palpating my uterus was an entirely different experience. It no longer felt hard, like a golf ball - rather supple like a ball made of sponge rubber. In fact, I could hardly discern it - it blended in harmoniously with the rest of the abdominal tissues.
Menopause symptoms relief for me includes: reversing uterine lumps and swelling, no hot flashes, healthy libido, more luxuriant hair growth (both above and below), smoother skin and firmer breasts.
In this Endosterol testimonial I give a great deal of credit to that wonderful formula for my now-flourishing femininity.


The Facts Behind this Endosterol Testimonial: How the Ingredients Alleviate Menopause Symptoms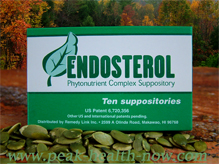 Buy Endosterol (Save $20.00 per box on larger quantity)



© 2008 - 2018 ™Peak Health Now.com. All rights reserved. 
Throughout this website, statements are made pertaining to the properties and/or functions of food and/or nutritional products. These statements have not been evaluated by the FDA and these materials and products are not intended to diagnose, treat, cure or prevent any disease. For all health and medical questions, please consult with your doctor. By viewing this site, you are stating that you agree with this disclaimer.