The safest, most effective therapies for optimal health!
---
by Ellen Landauer
Chlorella Benefits Recipes:
How to Get the Most From this Deep Green Superfood
Chlorella benefits recipes give you creative ideas on how to most effectively include this renowned green superfood in your daily protocol.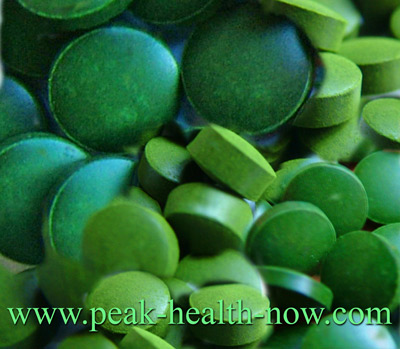 Chlorella Benefits for Raw Food Vegans
IMPORTANT: Please begin your protocol with VERY small dose and gradually work up to a therapeutic dose if desired. Chlorella benefits are best obtained by going slowly - this is an intensely concentrated food!   

This fabulous detoxifying food comes in several forms from two species of this healthful one-celled plant - Pyrenoidosa and Vulgaris
Pyrenoidosa comes in tablets OR powder / Vulgaris comes only in tablets
For the ONLY Chlorella I recommend, CLICK HERE
If you are a vegan, this green superfood is a great way to increase your protein intake. It contains approximately 60% protein, also more lutein than any other plant source. The reason we don't see the intense yellow gold of the lutein in Chlorella is because this green food also contains more chlorophyll than any other plant food, far overshadowing the color of the lutein.
This green superfood contains magnesium, potassium and a host of other minerals, as well as vitamins, co-factors and many other healthful nutrients.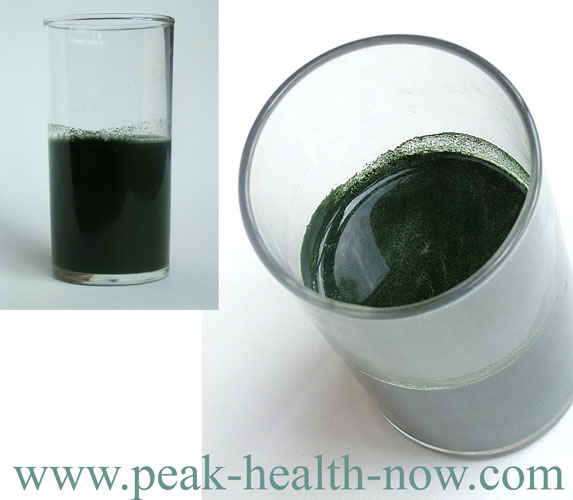 STEP 1: To make powder, grind tablets in coffee grinder.
STEP 2: Just add powder to 4 oz water. Stir gently, let sit for a few minutes, stir again and drink. After, drink another ounce or so of water.  

For optimal Chlorella benefits, take 30 - 40 minutes before a meal, OR before a coffee enema.
**VERY IMPORTANT: For most reliable Chlorella benefits, if you are just beginning to use it, start VERY SLOWLY with 1/8 teaspoon of the powder. Every few days you can add another 1/8 teaspoon to the dose. A good therapeutic dose to aim for would be 3/4 - 1 1/4 teaspoons of the powder 1 - 3 x per day. I am repeating what I said at beginning of this article because it is that important!
You may add the Pyrenoidosa powder to any kind of juice. 

Freshly made vegetable juice such as carrot, celery and beet are preferred to fruit juice when taking it with juice. The reason for this is that adding it to sweet juices such as apple, pineapple or orange may be a combination that leads to intestinal gas in some people - so the best option is vegetable juice. **I also do not recommend fruit juices as the glycemic index is very high and also not a good idea for most of us.**
For optimal Chlorella benefits, take 30 - 40 minutes before a meal, OR before a coffee enema.
Chlorella Benefits on Salads



Just sprinkle some of the powder on a green salad. Simply adjust the amount to suit your taste. The rich, nutty flavor is well-liked by most.
You can sprinkle Pyrenoidosa powder on any dish - just make sure food is not hot in order to get the most Chlorella benefits.
Green Superfood Recipes
for People With Severe Food Allergies
'Green Cereal'
Ingredients: 1/4 - 1/2 cup dried coconut chips or dried shredded coconut (NOTE: The larger flake form of dried coconut is preferable; it tastes better because the oil has not been removed. Shredded coconut is what is left after the oil is taken out - has less nutritional benefit and less taste than the flakes. 
3 - 4 oz water
Chlorella powder (if just starting on Chlorella, 1/8 - 1/4 teaspoon; slowly work up to 3/4 - 1 1/4 teaspoons
Stevia extract to taste - start with 1/16 t and add more if needed (Kal brand is the best tasting)
NOTE: I no longer recommend using ANY stevia extract - I learned that even if not listed on label, stevia extract powder contains glycerin or other excitotoxin compounds. Excitotoxins overstimulate brain neurons until they die! These compounds such as glycerin, maltodextrin, etc. have same effect as MSG!
Better to throw in a few currants (low glycemic index) or other unadulterated sweet foods.
Optional: If you tolerate nuts and seeds, toss in some fresh raw pumpkin seeds, slivered almonds, cashews or other nuts. 
Directions: Mix ingredients together in bowl and enjoy!
Green Cookie Recipe
Green Cookies - Delicious!

Ingredients: 1 cup dried coconut flakes - OR - 3/4 cup shredded coconut and 1/4 cup coconut oil
1/2 cup organic currants
1 teaspoon Chlorella powder
pinch of salt
Directions: Rub some coconut or other oil over a large dinner plate and place in the refrigerator to cool beforehand. Put the coconut in a small Cuisinart and blend until it becomes soupy. Add currants, Chlorella powder and pinch salt and blend until all ingredients are quite well mixed and finely ground. 
Spoon blended mixture on plate to make snack-sized cookies and refrigerate until they are firm.
Chlorella Benefits: List of all the ways this super green food enhances your health!
---
Ellen Landauer is an expert with over 40 years in-depth study and experience of the safe and effective use of nutritional supplements, botanical extracts and detoxification methods.
She is Certified as an Advanced Practitioner of Structural Integration body therapy developed by Dr. Ida P. Rolf - also known as Rolfing. This hands-on therapy is the deepest, most comprehensive body alignment therapy. 
To learn more about Ellen Landauer, see her detailed bio HERE
---
© 2008 - 2018 ™Peak Health Now.com. All rights reserved. 
Throughout this website, statements are made pertaining to the properties and/or functions of food and/or nutritional products. These statements have not been evaluated by the FDA and these materials and products are not intended to diagnose, treat, cure or prevent any disease. For all health and medical questions, please consult with your doctor. By viewing this site, you are stating that you agree with this disclaimer.