The safest, most effective therapies for optimal health!

---
by Ellen Landauer
Audio Technology Brain Balancing
Audio technology brain balancing simply means using specially engineered sound to balance the right and left hemispheres of the brain.
This is the easiest, most pleasurable way I know of to effectively reduce stress, anxiety and depression. With continued use, your brain wave patterns reach higher levels of harmony.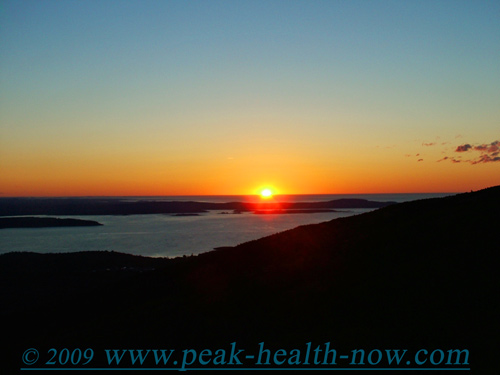 You effortlessly attain the calm and balance you yearn for in your daily life.
Zen monks spend their lifetime doing their best to achieve and maintain this perfectly relaxed and focused state.
---
Audio Technology Brain Balancing: Effortless Meditation
Have you ever been so stressed that...
the idea of trying to calmly focus, breathe in a relaxed way, or practice some other form of stress management felt like just another added stress?
All you want at such a time is for someone or something to 'do it for you.'
While it is a worthy goal to learn and practice meditation, there are times when letting yourself be 'given to' is just the right thing!
I am no stranger to various forms of meditation and contemplation. Sitting zazen, devotedly following Rudolf Steiner's spiritual development nature contemplation exercises, focusing on the breath, and doing many of my own versions of letting go of thought and being in the moment are among my decades of meditation experiences.
During my training as a Certified Advanced Rolfer (hands-on structural body therapy), Dr. Rosemary Feitis, an expert in brain hemisphere balancing, instructed our group in her original advanced methods of balancing the brain.
Bringing right and left hemispheres of the brain into perfect balance results in heightened awareness and enhanced state of calm.
Balancing one's brain by such methods is a fine skill that needs to be learned and practiced.
Imagine my surprise years later when I found a technology that made the process effortless.
My first experience of this method of relieving stress and anxiety left no doubt of its effectiveness.
I sent away for a free sample CD that sounded intriguing.
All I had to do was put on headphones, lie down and play the CD. I was so impressed with how I felt from just 10 minutes of the sample recording, that I purchased the full-length version.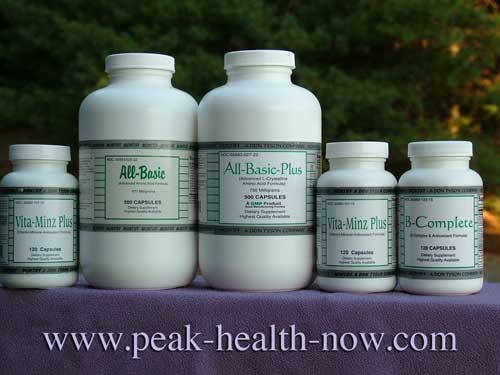 PHOTO ABOVE: Full spectrum Montiff Amino Acids and Multi Vitamin/Minerals provide the raw materials for optimal neurotransmitter production and brain function.
---
Audio Technology Brain Balancing: an Easy Refuge From Stress
You know, there aren't that many stress-relief methods out there that I've found to work EVERY TIME I use them!
Audio brain balancing technology is something that I, personally, have found to do exactly what it says it does, WITHOUT FAIL!
No matter how I am feeling, or what's going on in my life, if I lie down with the headphones and listen for at least 1/2 hour, I get results.
Mental clarity: When I get up, my thoughts are naturally clearer and more well organized.
Calmness: I feel centered. My perspective on life is more balanced.
Emotional healing: Anxiety, depression and stress recede. I feel more naturally at ease with an expansive feeling of well-being.
Physical well-being: My way of moving becomes more fluid and coordinated. I feel uplifted, walk taller and find that I have more energy to devote to the things I want to do.
There are not many things you can do to naturally relieve stress, anxiety and depression, which require so little effort.
I tend to be skeptical of any product or technique that makes such claims, but with the best technology, audio brain balancing is a great resource to have close at hand.
PHOTO BELOW: Nutrition to optimize neurotransmitters and brain function - Montiff Amino Acids and Multi Vitamin and Minerals formulas.

Chrysin Cream with 100 mg passiflora incarnata extract (Passion Flower) per dose helps support calmness and confidence.
---
Ellen Landauer is an expert with over 40 years in-depth study and experience of the safe and effective use of nutritional supplements, botanical extracts and detoxification methods.
She is Certified as an Advanced Practitioner of Structural Integration body therapy developed by Dr. Ida P. Rolf - also known as Rolfing. This hands-on therapy is the deepest, most comprehensive body alignment therapy. 
---
Ellen Landauer is also a NEWLY PUBLISHED AUTHOR!
---
To learn more about Ellen Landauer, see her detailed bio HERE

---
The Food and Drug Administration has not evaluated any of the statements on this website. Products offered on this website are not intended to diagnose, treat, cure, or prevent any disease. The information presented on this site is provided for informational purposes only; it is not meant to be a substitute for medical advice or diagnosis provided by your physician or other medical professional. If you have any health problem, please consult with a physician or health care provider before using any natural products. Peak Health Now and/or its product suppliers assume no liability for any injury, illness or adverse affects caused by the misuse and/or use of the information or products presented on this website.

© 2008 - 2022 ™Peak Health Now.com. All rights reserved. 
Throughout this website, statements are made pertaining to the properties and/or functions of food and/or nutritional products. These statements have not been evaluated by the FDA and these materials and products are not intended to diagnose, treat, cure or prevent any disease. For all health and medical questions, please consult with your doctor. By viewing this site, you are stating that you agree with this disclaimer.