The safest, most effective therapies for optimal health!
---
by Ellen Landauer
EDTA Chelation Suppositories:
PHOTO BELOW: The BEST EDTA Chelation suppositories formulas to address a multitude of detox pathways.
Medicardium, Xeneplex, Glytamins, Endosterol Ingredients
The QUALITY of the ingredients in the EDTA Chelation suppositories formulas below are second to none!
How do I know this?
I've known the man who formulates and manufactures them for over 8 years and see first hand how he maintains a rare excellence of product purity and effectiveness.
On more than one occasion, he has contacted me to replace large quantities of product at his own expense and made sure all customers had their product replaced as well…
NOT because the product wasn't NEAR-PERFECT and effective… RATHER because HE was not satisfied with that - but because even just ONE ingredient wasn't 110% perfect!!
---
Medicardium Magnesium Di-Potassium EDTA Chelation Suppositories
Medicardium EDTA Chelation Suppositories Ingredients: 365 mg Magnesium Di-Potassium EDTA, Cocoa Butter, White Wax
Buy Medicardium: FREE Shipping / Save $120.00 when you Buy 6 Boxes!


---
Glytamins Liver Gallbladder Kidney Support Complex Detox Suppositories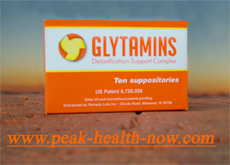 Glytamins Ingredients: Glycine 120 mg / Taurine 120 mg / Phosphatidyl Choline 120 mg / Bupleurum 120 mg / Chanca Piedra 120 mg / Peppermint 20 mg / Magnesium Di-Potassium EDTA 20 mg, Cocoa Butter

Buy Glytamins: FREE Shipping / Save $120.00 when you Buy 6 Boxes!
---
Xeneplex Coffee Glutathione EDTA Detox Suppositories
Xeneplex Coffee Glutathione Detox Suppositories Ingredients: Organic Coffee Extract 200 mg / Glutathione 200 mg / Magnesium Di-Potassium EDTA 50 mg / Cocoa Butter

Buy Xeneplex: FREE Shipping / Save $120.00 when you Buy 6 Boxes!
---
Endosterol Phytonutrient Complex Suppositories for Men and Women
Endosterol ingredients: 250 mg Phytosterol blend (beta sitosterol, sitostanol, campesterol, campestanol), 150 mg Saw Palmetto extract, 100 mg Pumpkin Seed extract, 100 mg Quercetin, 100 mg Dandelion extract, 100 mg Lecithin, 50 mg Magnesium Di-Potassium EDTA, 20 mg Ellagic acid (from raspberry leaf),Gingko Biloba 20 mg.

Buy Endosterol: FREE Shipping / Save $120.00 when you Buy 6 Boxes!
---
Ellen Landauer is an expert with over 40 years in-depth study and experience of the safe and effective use of nutritional supplements, botanical extracts and detoxification methods.
She is Certified as an Advanced Practitioner of Structural Integration body therapy developed by Dr. Ida P. Rolf - also known as Rolfing. This hands-on therapy is the deepest, most comprehensive body alignment therapy. 
---
Ellen Landauer is also a NEWLY PUBLISHED AUTHOR!
---
To learn more about Ellen Landauer, see her detailed bio HERE

---
© 2008 - 2018 ™Peak Health Now.com. All rights reserved. 
Throughout this website, statements are made pertaining to the properties and/or functions of food and/or nutritional products. These statements have not been evaluated by the FDA and these materials and products are not intended to diagnose, treat, cure or prevent any disease. For all health and medical questions, please consult with your doctor. By viewing this site, you are stating that you agree with this disclaimer.