Xeneplex Coffee Suppositories: Quick, Convenient Alternative to an Enema
Xeneplex coffee suppositories are a quick, easy way to get most of the benefits of a coffee enema. Their action is enhanced by added glutathione and magnesium di-potassium EDTA.
Traditional coffee enemas like those used in the Gerson Cancer clinics are a wonderful ritual. But they DO take time. Including preparation, administering, relaxing (the best part of course) and clean-up, a regular coffee enema can take up to an hour.
You might think of Xeneplex as your 'instant coffee' enema! It takes less than 30 seconds to insert a suppository, wash your hands and lie down for a blissful sleep.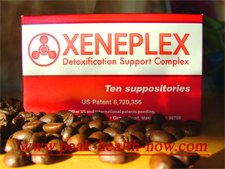 Buy Some Xeneplex for You!


Xeneplex vs. Coffee Enema: An In-Depth Look at Pros and Cons of Each

Very Economical Xeneplex Alternative