Disclaimer: Throughout this entire website, statements are made pertaining to the properties and/or functions of food and/or nutritional products. These statements have not been evaluated by the Food and Drug Administration and these materials and products are not intended to diagnose, treat, cure or prevent any disease. 
IMPORTANT INFO FOR PURCHASING OUR PRODUCTS:
If you do not have a PayPal account, AND do not want one, we accept Visa and MC by phone  (413-339-8527)
Due to high call volume, you MUST leave a message and best time to reach you directly.
We make every effort to return your call within 24 hrs.
---
Pycnogenol Benefits
For Pycnogenol benefits buy the real French Maritime Pine Bark Extract for nitric oxide, skin health and much more!
**Beware of products that contain 'grapeseed extract' or other compounds and claim it to be the same - they are lying.**
Because of its significant support of endothelial function (endothelial cells line all our blood vessels and when healthy, produce Nitric Oxide and regulate blood flow), this pine bark extract can contribute to a heightened sense of well-being.
You may find, as I have, that Pycnogenol benefits include the lovely tingly feeling of enhanced circulation associated with increased nitric oxide production.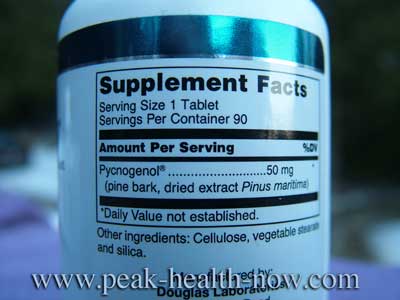 Pycnogenol Benefits Plus Vas-cu-Care Package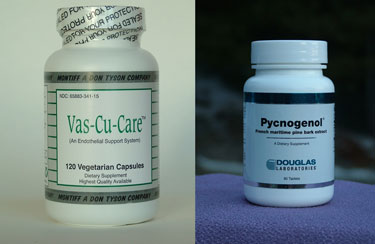 © 2008 - 2017 ™Peak Health Now.com. All rights reserved. 

Disclaimer: Any and all articles, answers and comments on this site are for general information, and are not intended to be a substitute for your informed professional medical or other professional advice. 

You are responsible for the results or consequences of your choices based on general information presented here. Information is used at your own risk. 

The owner expressly disclaims liability for any product, manufacturer, distributor, service, or service provider or any opinion expressed in answers or comments. For all health and medical questions, please consult with your doctor. By viewing this site, you are stating that you agree with this disclaimer.