Phospholipid Exchange Review:
My Personal Experience
Phospholipid Exchange review: The essential phospholipids which comprise the major portion of this product are proven to have significant healing benefits in many conditions.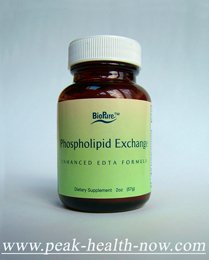 While the research is impressive, I wasn't prepared for how profoundly pleasurable the experience of using this product would be!
Phospholipid Exchange: the Research on Essential Phospholipids
Essential phospholipids, which comprise most of the Enhanced Phospholipid Exchange product has proven to have significant healing benefits in many conditions.
Just for starters...
...severe cirrhosis (fatty degeneration of the liver) in former alcoholics, hepatic (liver) injury caused by chemicals, kidney disorders such as renal insufficiency and glomerulonephritis, impaired coronary circulation, impaired peripheral circulation, atherosclerosis.
That's only a sampling!
Is your head spinning yet? Mine is. (On a page coming soon, I will be giving you a synopsis of the research on Essential Phospholipids that has spanned several decades).
Enhanced Phospholipid Exchange Full Dose
Enhanced Phospholipid Exchange has added Magnesium Chloride, EDTA and Alpha Lipoic Acid. With the added EDTA and Alpha Lipoic Acid, it is an effective chelator, in addition to healing the lipid membrane structures of the body.
Before using it at the (larger) recommended dose, I had been adding 1/4 - 3/4 teaspoon to my Mucuna Pruriens recipes. (new window)
Phospholipid Exchange has a wonderful ability to carry herbal compounds across the gut wall. This increases your absorption of the therapeutic compounds in the herb formula.
It was obvious to me that adding Enhanced Phospholipid Exchange to my Mucuna Pruriens recipes made a definitive difference...
How Did I Know it Magnified Effects of Mucuna?
How do I know I was absorbing more of the L-Dopa and other highly beneficial compounds in Mucuna Pruriens?
As I experimented with adding Enhanced Phospholipid Exchange to my Mucuna Pruriens drinks, it very clearly optimized the effects of the L-Dopa and other constituents of the Mucuna Pruriens.
How could I tell..?
My capacity for more sets in my weight training workouts took a huge jump - effortlessly. I felt more confident, pumped-up and built muscle more easily.
To this day, my workouts continue to improve as a result.
Next Adventure: I Decide to Try Phospholipid Exchange in the Full Recommended Dose:
Until I took the full recommended dose of 3 teaspoons (1 tablespoon), I did not come face to face with the profound therapeutic power of this supplement.
My husband is curious to try the full recommended dose of Phospholipid Exchange. I am a little hesitant due to the expense; one full dose is 1/4 of a 2 oz bottle. However, there must be a rationale behind the 1 tablespoon dose.
My curiosity gets the better of me; the new experience will give me added information on the healing capabilities of Phospholipid Exchange.
NOTE: Phospholipid Exchange works best on an empty stomach, and taken when you have time to relax afterward. It works particularly well at night, taken between 1:00 am - 3:00 am, when the body is most actively detoxifying.
Phospholipid Exchange in the Recommended Dose: Profound and Powerful
Within the first 10 - 20 minutes of taking Enhanced Phospholipid Exchange, a deliciously relaxed and comfortable wave of pleasure comes over my entire body. It feels particularly pronounced in my brain and nervous system - . It is similar to how you might feel on a cold winter night, wrapping yourself in a thick, warm comforter - but more profound.
My dreams are also profound than usual, with more clarity of color and feeling. They go on and on and I feel very comfortable and congruent with them. No fears, conflicts or drama.
I awake in a very deep state of relaxation and enhanced awareness. I feel healed on a profound level. I feel that I've spent time in a place in myself where everything is right, where there is no strife or conflict.
For this alone, it was more than worth it to take the full dose of Phospholipid Exchange.
But there's more...
Phospholipid Exchange Experience: Healing the Brain
Phospholipid Exchange Improved Vision
Upon stepping outside shortly after arising, I notice my vision is clearer. I can see the branches of trees on mountains over half mile away!
Recovering Childhood Magic
I have a very clear memory of the kind of magic that was palpable to me as a child. Both in dreams and waking, I inhabited a world full of scintillating color, movement and feeling.
Living in a body still relatively unburdened by the dulling, life-negative weight of mercury and other toxins, and not suffering undue stress, my senses were very clear and open. Perceiving the beauty of nature triggered a cascade of pleasure through my body.
For many years before mercury became an issue, my dreams usually met the description by my mentor Don Tyson of Montiff Neutraceuticals... He said, 'If you're not dreaming in Technicolor, your vitamin/minerals and amino acids are out of balance.'
As a child and young adult, my dreams were in Technicolor, filled with exultation, experiences of flying and feelings of empowerment.
But...
When I suffered mercury toxicity, my dreams were for the most part, dark, depressing, frightening, hopeless. It is noteworthy that mercury toxicity wreaks havoc with virtually every biochemical process in the body. This most emphatically includes brain chemistry.
My dreams during the night after taking my first full dose were once again infused with clear colors and optimistic feelings.


The Morning After My First Full Dose of Enhanced Phospholipid Exchange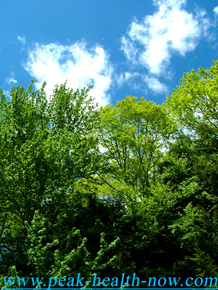 I lie on the chaise lounge in the morning sun, gazing at the surrounding trees. The richness of details revealed by a newfound visual acuity transports me to a state of ecstasy like that I experienced as a child...
A cascade of intense pleasure streaming through my whole body is triggered by taking into my eyes the fine details of the shape of oak leaves at the far top of a tall tree shimmering in the wind, individual branches of pine trees on a nearby mountain, the lacework of branches and leaves in the woods.
The swaying and undulating of myriad tree branches fills my visual field with a sinuous rhythm that insinuates itself into the core of my body. I feel the movement of the trees within me in a kinesthetic way. No need for harmful drugs - the joy of full aliveness is so much more profound!



Enhanced Phospholipid Exchange Facts


---
Special Pricing
For Special Pricing on Enhanced Phospholipid Exchange, Wild Salmon Oil, the best Chlorella and other excellent products, please fill out the form below.
You will receive an email with page URL and password to enter the Private Peak Health Store.
In order to provide better pricing, I have arranged with the various companies to keep them on a password-protected page.
**If you have ANY trouble accessing the Private Store, or placing your order, please call 413-339-8527 and I will be happy to assist you.
I wish you the very Best of Health!
Sincerely,
Ellen Landauer