Disclaimer: Throughout this entire website, statements are made pertaining to the properties and/or functions of food and/or nutritional products. These statements have not been evaluated by the Food and Drug Administration and these materials and products are not intended to diagnose, treat, cure or prevent any disease. 
IMPORTANT INFO FOR PURCHASING OUR PRODUCTS:
If you do not have a PayPal account, AND do not want one, we accept Visa and MC by phone  (413-339-8527)
Due to high call volume, you MUST leave a message and best time to reach you directly.
We make every effort to return your call within 24 hrs.
---
Montiff Multi Vitamin Mineral Amino Acids Packages for You!
Montiff Multi Vitamin Mineral Amino Acids Packages provide the most potent, fresh, pure foundational protocols for You!

SCROLL DOWN to view our hand-picked
packages of comprehensive Vitamin /
Mineral / Amino Acids / Botanical combos!
---
Balanced Full-Spectrum #1
1 month or 3 months supply

All-Basic Plus with Tryptophan &
Vita-Minz Plus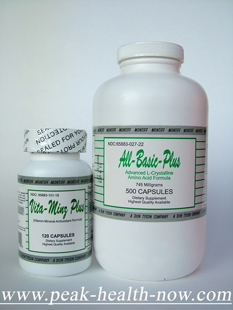 1 month supply: 1 bottle Vita-Minz Plus, 120 capsules / 2 bottles All-Basic Plus 745 mg, 100 capsules per bottle
3 month supply: 1 bottle All-Basic Plus 745 mg, 500 capsules / 3 bottles Vita-Minz Plus 120 capsules per bottle

---
Balanced Full-Spectrum #2
3 month supply

All-Basic (without Tryptophan)
Vita-Minz Plus
1 bottle Montiff All-Basic 500 caps - the most VERSATILE of the Amino Acids formulas, paired with 2 bottles Montiff Vita-Minz Plus 120 caps - the mother of all multivitamin/mineral formulas - a 3 MONTH SUPPLY for a solid foundation!
---
Balanced Full-Spectrum #3
Deluxe 3 - 4 month supply
Morning, noon and night protocol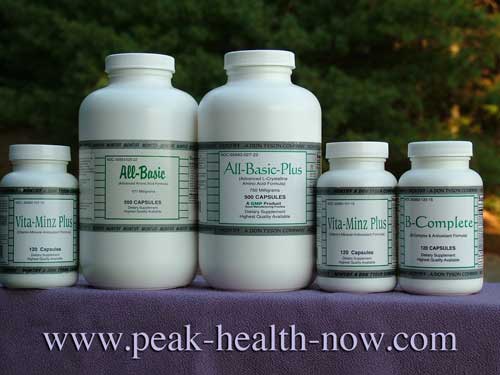 1 ea All-Basic 500 caps, All-Basic Plus 500 caps / 2 Vita-Minz Plus 120 caps / 1 B-Complete 120 caps gives you solid support morning, noon and night.
---
Joint and Cartilage Support Combo:
Full-Spectrum Nutrition with Amino
Acids, Vitamins, Minerals & Botanicals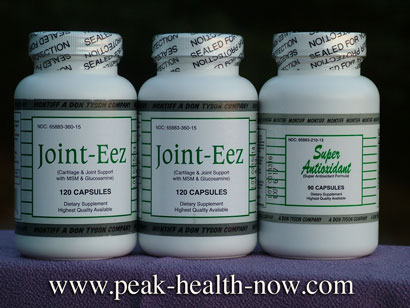 2 bottles Montiff Joint-Eez
1 bottle Montiff Super Antioxidant:
3 bottles total
© 2008 - 2017 ™Peak Health Now.com. All rights reserved. 

Disclaimer: Any and all articles, answers and comments on this site are for general information, and are not intended to be a substitute for your informed professional medical or other professional advice. 

You are responsible for the results or consequences of your choices based on general information presented here. Information is used at your own risk. 

The owner expressly disclaims liability for any product, manufacturer, distributor, service, or service provider or any opinion expressed in answers or comments. For all health and medical questions, please consult with your doctor. By viewing this site, you are stating that you agree with this disclaimer.