Real Estriol Cream (Bioidentical Estriol USP)
Not to be confused with phyto-estrogens
This Estriol Cream contains REAL bioidentical Estriol USP (US pharmaceutical grade). Do not confuse phyto-estrogens with the pure natural Estriol USP contained in Peak Health Now Real Estrogen Creme.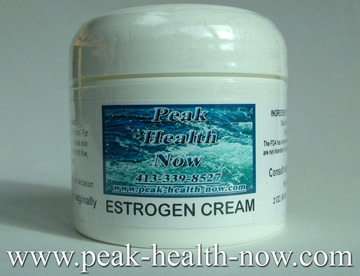 The natural estrogen, Estriol USP, is made the same way natural progesterone USP is made. Sterol analogues found in many varieties of plants are combined with specific bacteria and the resulting hormone is bio-identical in chemical structure to the hormone produced by the human body.
Wild yam extract and other phyto-estrogen containing compounds are NOT bioidentical and do NOT give you the kind of benefits real estriol provides. I know - I tried both.
This Estriol Cream is the one I personally use and recommend to my clients.
Suggested Applications: Start with ¼ teaspoon (1.25ml) daily. Apply to thin skinned areas such as inner arm, inner thigh and behind the knee. 1.25 ml = 1 mg Estriol USP. Can use up to 4 mg Estriol per day. Use the least amount possible to control systems. Use in conjunction with natural progesterone crème.
Caution: Not recommended during pregnancy or lactation.
Active Ingredients: Micronized Estriol USP. Inert Ingredients: Purified Water, Vegetable Oil Blend, Aloe Vera, Sepigel 305, Potassium Sorbate, Sorbic Acid.
Estriol Cream: Why is Topical (Skin) Application Better Than Taking it Orally?
Why Estriol Cream? Natural estrogens taken orally are mostly destroyed in the digestion process. Adequate absorption is only accomplished through topical application in the form of a cream with a penetrating oil component.
At the laboratory I employed to put together this formula, years of experience combining clinically tested skin care ingredients with micronized natural Estriol USP created a simple easy to use crème.
In addition to this premier Estriol Cream Formula, the Peak Health Now product line includes Testo-Cream (one formula made for women - and one made for men), Progesterone Cream - AND - Estriol Oil for vaginal use.
Womens Hormonal Balance Supplement Supports Effectiveness of Estriol Cream